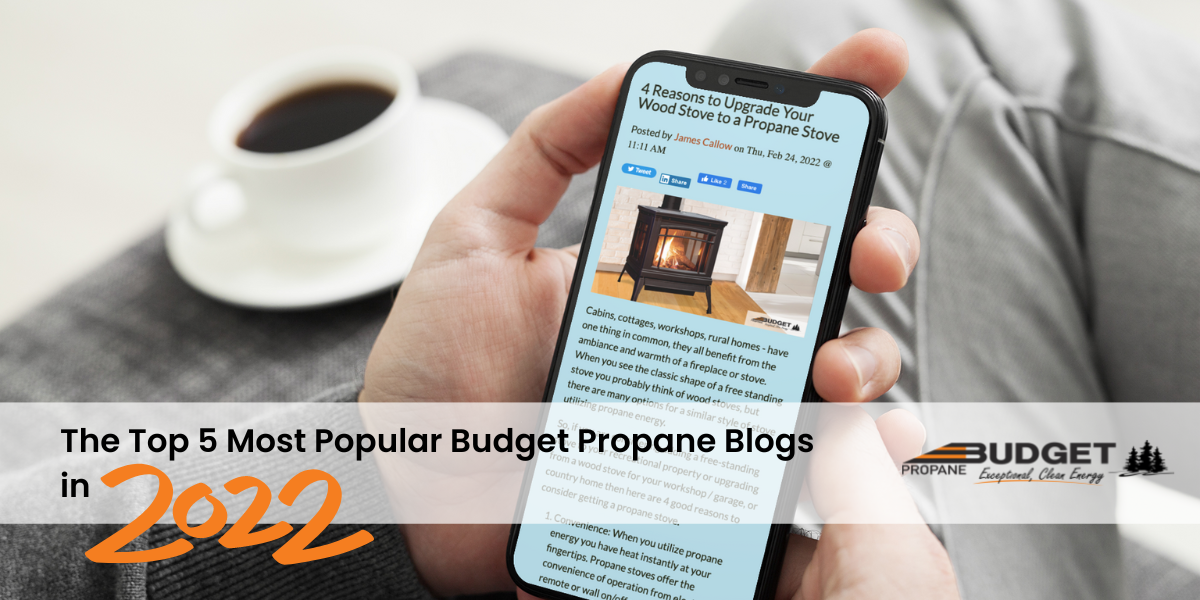 With a new year just around the corner, we thought it a good time to look back at 2022 and review some of most popular blogs we've posted on the Budget Propane website. Here's the top 5 most viewed blogs. Did you miss any? Here's a chance to catch up and remember to subscribe to get blogs delivered to your inbox when published.
#5 - 4 Reasons to Upgrade Your Wood Stove to a Propane Stove
Cabins, cottages, workshops, rural homes - have one thing in common, they all benefit from the ambiance and warmth of a fireplace or stove. When you see the classic shape of a free standing stove you probably think of wood stoves, but there are many options for a similar style of stove utilizing propane energy.
So, if you are considering adding a free-standing stove to your recreational property or upgrading from a wood stove for your workshop / garage, or country home then here are 4 good reasons to consider getting a propane stove.
#4 - Is Propane a Better Choice Than Oil For Heating?
Have you recently bought a rural property or cottage and are thinking about alternative energy sources? Or maybe you've decided that this year it's time to update your furnace to increase efficiency.
Many residential home heating alternatives are much more effective, efficient, and environmentally friendly than oil and propane is at the forefront of these alternatives.
If your heating system using fuel oil to heat your home or cottage, it may be time to switch to propane so that you can start taking advantage of all the benefits propane heating has to offer.
Let's look at some common questions that home owners have about residential energy sources.
#3 - BBQ Safety Tips from the Canadian Propane Association
It's barbecue season at last and we'd like to share some safety tips from The Canadian Propane Association.
While propane barbecues are fast, clean and convenient, they do require some maintenance and a few basic precautions. A little extra care and these few simple precautions should ensure the safe and enjoyable operation of your barbecue.
#2 - The Ultimate Opening-Weekend Checklist for Your Ontario-Based Cottage
As we head into March there is a feeling that winter is almost behind us and we can begin thinking about the change of season. Your seasonal cottage property is waiting to be re-opened and it won't be too long now.
If you are a seasoned cottage owner, you probably have developed a regular routine and know exactly what you need to do on that opening weekend.
For new cottage owners, however, the list of chores may seem overwhelming. In this blog, Budget Propane Ontario has created a list of exactly what you need to get your cottage in top shape for the coming season.
#1 - How do I Check the Level of my Propane Tank?
If you don't receive an automatic delivery service, then checking your propane level is an absolutely essential part of ensuring that you have a consistent supply of propane to power your appliances.
Whether you have a large propane tank to power your entire home or a smaller propane tank for your RV or trailer, it can sometimes be difficult to determine exactly how much propane you have left in your tank.
To give you a helping hand, Budget Propane Ontario has listed three of the easiest ways that will help you check your propane levels.
---
Budget Propane delivers bulk propane energy to residential homes, cottages and businesses throughout central Ontario. Contact us for a propane service quote. We pride ourselves on exceptional customer service and are owned and operated in the region we serve.