Are You Experiencing a Propane Emergency?
Call 1-888-405-7777 - Budget Propane Ontario's team of experts are available 24 hours a day, 7 days a week to help. If you are in an emergency situation, please call 911.
Important information on propane safety
We value all of our customers, both residential and commercial. That's why here at Budget Propane we want to make sure you know how to use propane safely, and understand exactly what to do in the event of an emergency.
Propane is one of the safest alternative fuel options on the market. However, while emergencies are rare, you should know exactly how to react so that you can keep your home and your family safe.
▶ GAS LEAKS
What to do if you smell propane or suspect a leak from your tank?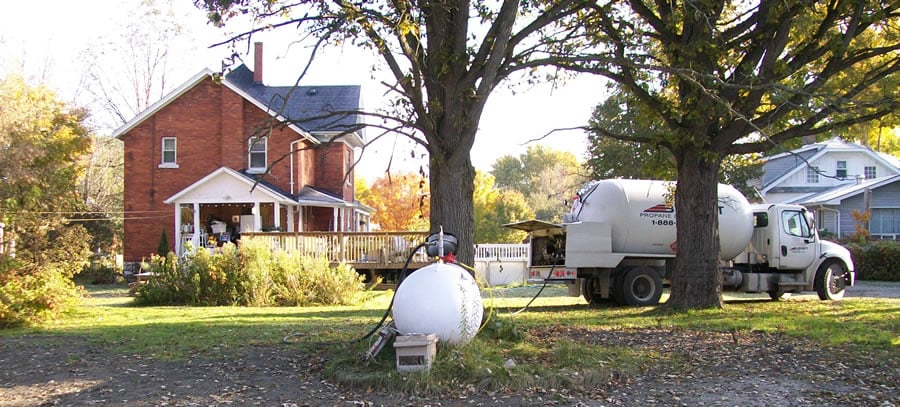 For your safety, propane has an odour added to it so you can detect leaks. The odour added to propane gives off a strong smell of rotten eggs, meaning you should be able to detect a leak fairly fast. Another indication of a gas leak is a hissing noise from a pipe or appliance.
If you detect a leak you should:
Extinguish all smoking materials and open flames. Do not create any sources of ignition by using flashlights, cell phones or electrical switches.
Get everyone out of the building immediately.
Shut off the propane. If safe to do so, turn off the main supply valve on your propane tank.
Report the leak. Call your propane supplier's emergency phone number [Budget Propane 1-888-405-7777 24 hours a day, 7 days a week] or 911. Do not re-enter the area until cleared to do so by a qualified service technician or emergency responder.
Get your system checked. After the area has been deemed safe, a qualified service technician must repair the leak, turn on the propane, and check and re-activate the propane appliances.
Some people may have difficulty smelling propane due to age, a medical condition, the effects of medication, etc. On rare occasions, propane can lose its odour. Consider installing propane detectors for additional security. However, never ignore the smell of propane, even if it is faint or the detector is not sounding an alarm."
Safety Guidelines Provided by, Propane Safety for Consumers, The Canadian Propane Association. Download a copy today!
▶ CARBON MONOXIDE
The best way for homeowners to reduce the risk of carbon monoxide poisoning is to have a qualified service technician check appliances and venting systems annually, preferably before the heating season begins. Chimneys, flues, and vents should be free of debris (leaves and animal nests) and snow and ice.
Homeowners need to consider installing CO monitors on every level of the house. A gas oven or range-top burners should not be used to provide space heating, portable heaters are never to be used indoors (unless they are designed and approved for indoor use), and the use of a barbecue grill (propane or charcoal) indoors for cooking or heating is never acceptable.
Common sources of carbon monoxide:
Furnace
Water heater
Dryer
Fireplace
Stove
Car
BBQ
Blocked vents or chimney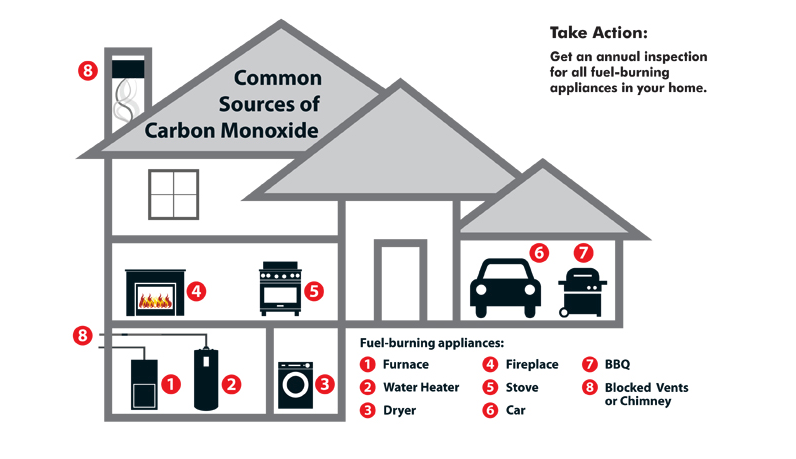 ▶ FLOODING
If flooding is in the forecast
Floods can make your propane tank more susceptible to leaks or damage, but a few safety precautions will limit those risks:
Shut off the gas supply to your propane tank and appliances, as well as your home's electricity supply.
Shut off both valves to your hot water tank - the one allowing water into the tank and the one controlling water coming out.
If flooding is in the forecast, get in touch with your propane supplier about the possibility of temporarily removing your propane tank, hot water tank and other appliances.
Ensure your propane tank or cylinder is fixed to a floor or base.
▶ WINTER SAFETY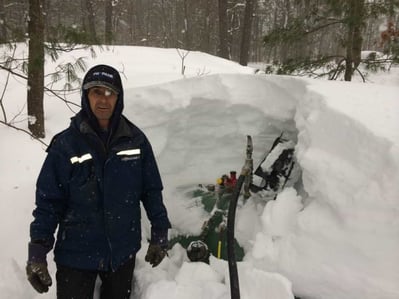 Many of our customers enjoy central Ontario year-round, through all kinds of winter weather, permanent residents and weekend cottage enthusiasts.
Here are some important safety tips to help ensure your family's comfort during the winter season, and to help our drivers service your location in a safe manner.
Mark your propane tank location with a flag so your propane delivery driver can find it after a heavy snowfall.
Ensure you have an adequate supply of propane in your tank. Roads leading to your home might not be accessible in heavy snowstorms.
Ensure your driveway and the access to your propane tank is cleared.
Clear snow and ice away from propane tanks and outside vents, chimneys and flues. This will reduce the chance of frozen pipes and carbon monoxide poisoning.
Never use a camp stove or bring your gas grill inside for space heating even during a power outage. Only use appliances indoors that are designed and approved for that purpose. Never store, place, or use a propane cylinder indoors or in enclosed areas. Never use outdoor propane-powered appliances indoors or in enclosed areas. Without proper ventilation, deadly carbon monoxide (CO) fumes produced can build up.
Operate portable generators with caution. Never use a portable generator (gasoline, diesel, or propane) indoors or in enclosed areas. Doing so can result in carbon monoxide (CO) poisoning or fatalities.



▶ INSPECTIONS

Ensure propane equipment is inspected regularly

Make sure only qualified service technicians inspect, service and repair your propane appliances.

If you want any further information on propane safety then please do contact Budget Propane Ontario's team of experts today. We would be more than happy to answer any questions you have.