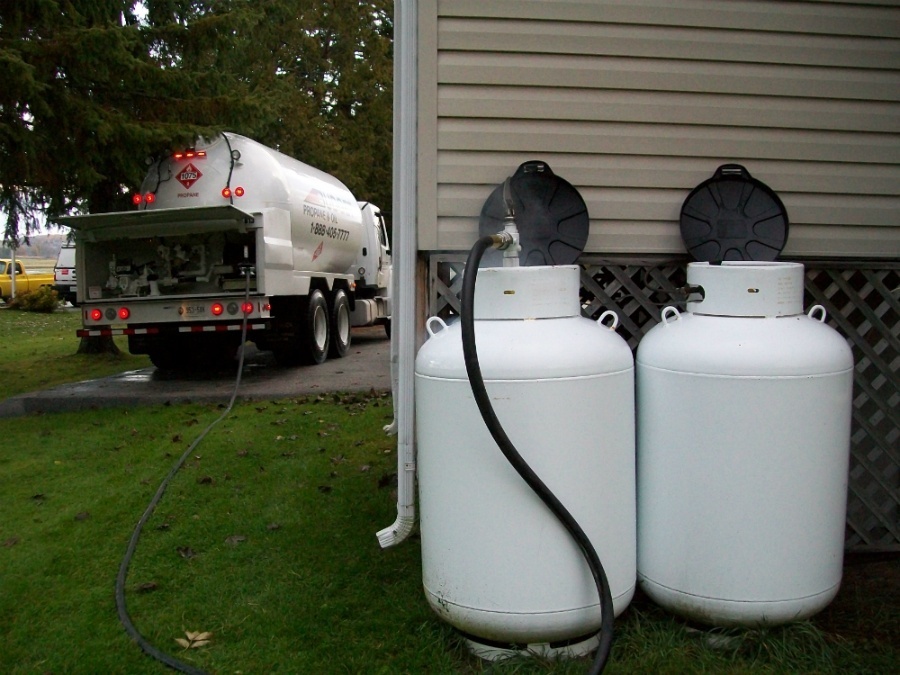 If you don't receive an automatic delivery service, then checking your propane level is an absolutely essential part of ensuring that you have a consistent supply of propane to power your appliances.
Whether you have a large propane tank to power your entire home or a smaller propane tank for your RV or trailer, it can sometimes be difficult to determine exactly how much propane you have left in your tank.
To give you a helping hand, Budget Propane Ontario has listed three of the easiest ways that will help you check your propane levels.
1 - The hot water method
The hot water method is one of the fastest ways to get an approximate level of how much propane you have left in your tank.
For this method you simply need to fill a cup with hot water from your tap, pour the water down the side of your propane tank and then run your hand down the side of the tank until you feel a cool spot.
The top of the cool spot will be the fill level of the tank. This is because the propane absorbs the heat from the water, while the tank wall above the fill line will remain hot. This is only an estimate and not an exact measurement of how much propane you have left.
2 - Install a propane gas gauge
If you don't like estimating your propane levels, then a propane gauge will be the best solution for you. These can be found in different forms and can be bought for an affordable price at most hardware stores in Ontario.
Types of propane tank gauges include:
Inline pressure gauges.
Analog propane scales.
Digital propane tank scales.
Reading a gauge is fairly straightforward. The gauge, which usually can be found at the top of your tank next to the fill pipe, should display a number between 10 and 80. This number is a percentage, so you simply need to multiply the tank's total capacity by this figure.
*All Budget Propane tanks come with a gauge installed - this gauge is located under the lid of the tank.
Your propane tank will never be filled above 80 per cent to allow for volume changes in hot weather.
3 - Automated delivery
The easiest way to check the level of your propane is by the installation of a propane tank monitor. This smart technology works by alerting your propane supplier when your propane levels are low, allowing them to come and refill your tank.
By alerting your supplier when your levels are low, propane tank monitors allow for automated delivery services. Life is busy and your propane level is the last thing you need to be worrying about, that's why the constant propane supply of automated delivery will reduce stress and provide you with peace of mind.
Want to learn more about propane or get a no obligation quote? Contact Budget Propane Ontario today.