There are two main types of propane tanks – torpedo tanks or vertical tanks. The size and style of the tank will be dependant upon the estimated amount of propane usage.
Torpedo Style Propane Tanks
Torpedo style propane tanks are typically used for main source heat applications. The benefit of a torpedo style tank is its large capacity which enables for safe, efficient and reliable delivery throughout the harsh winter months. Budget Propane provides green torpedo tanks to help your tank blend in with your property.
Torpedo tanks come in two main sizes - 500 Gallon and 1000 Gallon.
500 Gallon Propane Tanks are good for residential and small commercial applications and must be installed at least 10' from buildings and property lines. They are aproximately 3'10" High, 9'10" Long and have a Diameter of 38".
1000 Gallon Propane Tanks are more common in commercial and agricultural applications where large amounts of propane are consumer. These tanks must be installed 25' from buildings and 10' from property lines. They are aproximately 4'4" High, 15'11" Long and have a Diameter of 41".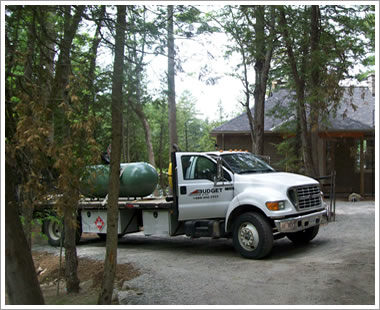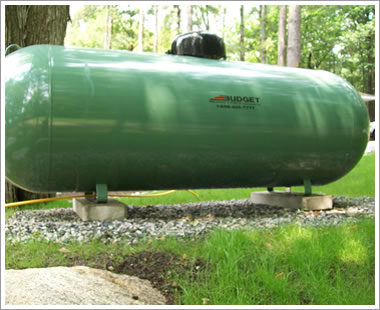 Vertical Propane Tanks
Vertical Propane Tanks are typically used for intermittent or reduced consumption loads, like water heaters, fireplaces, pool heaters and other small appliances. One benefit of a 120 gallon is that it can be placed right up to a building or near a property line. Most vertical tanks are white, however, you are welcome to use a light coloured, rust-proof paint on your tank to help it blend in with your home and landscaping.
Vertical Tanks come in one size - 120 gallon They are approximately 52.5" High and have a 30" Diameter.
Unlike Torpedo Tanks, Vertical Tanks can be installed against a building. If you require additional volume, but are unable to install a small 500 Gallon Torpedo Tank, you can connect up to four Vertical Tanks together.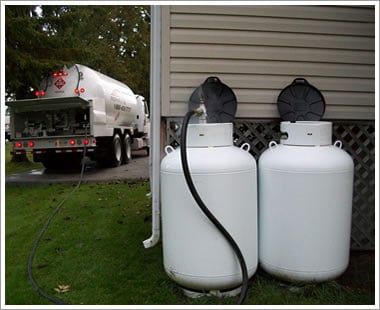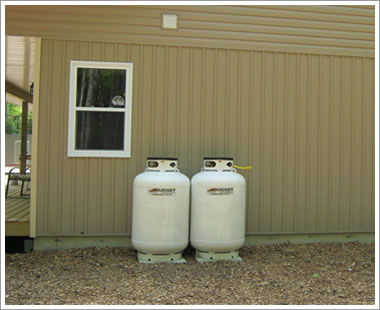 Contact customer care if you have any questions about propane tanks or if you would like more information about becoming a Budget Propane customer!