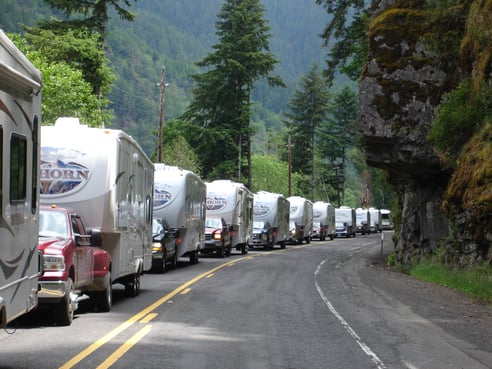 The advantages of using propane for your RV or Motorhome are numerous. Not only is propane versatile, portable, cost-effective, and environmentally-friendly, it's also a safe energy source for fueling appliances in your RV.
As with all fuels, it is important to learn how to properly handle propane with care, and what to do in the rare case of a leak or emergency.
The Canadian Propane Association has released a brochure featuring safety tips on propane use in your RV. Check out the propane safety highlights below, or click here to read the full brochure:
Ensure you are familiar with the manufacturer's written operating and maintenance instructions. If you are renting an RV, make sure to ask for safety instructions.
Arrange for regular propane equipment maintenance and inspections.
Familiarize yourself with propane's odour. Propane gas contains an odourant that smells like rotten eggs or boiling cabbage to assist with early leak detection.
Immediately leave the RV and area if you smell propane. If safe, you can close the supply valve on the propane containers.
When using a propane stove or oven, open a vent or window, or turn on the range hood to remove moisture and combustion products (which may contain carbon monoxide).
Never use stove burners or oven for space heating. They are designed for attended cooking only.
Don't use portable propane camping equipment in your RV.
Don't use charcoal barbecues or portable liquid fuel camping equipment in your RV. Liquid fuels include kerosene, camp fuel, butane, gasoline, alcohol, lamp oil., etc.
Leave your RV and seek medical attention if you are showing physical sympoms of CO poisoning (headaches, nausea, dizziness, drowsiness, confusion, impaired judgement, loss of manual dexterity).
Consider purchasing a propane gas detector and carbon monoxide alarm. If battery operated, replace the batteries at the start of each RV season.
Before entering an area for refilling gasoline and on-board propane containers, turn off all burners pilot lights, appliances and automatic ignition devices. Turn off the vehicle engine and have everyone leave the RV vehicle before refueling.
Transport propane containers in the upright position and secured.
Never use, store, or transport propane cylinders or liquid fuels in the passenger space or living area of your RV.
Don't transport or use propane containers that are damaged, show signs of corrosion, have been exposed to fire, or appear to be leaking.
After exchanging propane cylingers, always check connections for leaks with an approved leak detector solution, or mixture of 50% liquid soap and 50% water applied with a paint brush.
Propane cylinders must be inspected and requalified every 10 years.
When shopping for propane equipment for your RV or camping, make sure the product is certified for Canada.
Interested in learning more about propane? Contact us today for more information and a free quote.
We Deliver Quality Propane and Provide Friendly Customer Service Throughout Central Ontario!
Budget Propane Ontario supplies bulk propane to residential, commercial, and construction sites in central Ontario. Call us to discuss your needs and to learn about the benefits of using propane. 1 888 405.7777.