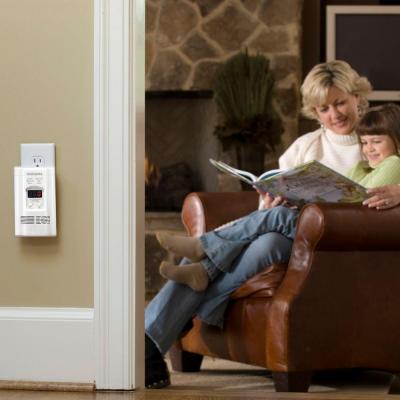 Propane is one of the safest alternative fuels on the market to use as an energy source inside your home. Despite this, it's still a great idea to invest in a few safety devices that will give your family additional protection and peace-of-mind.
Installing a carbon monoxide detector is one of the obvious pieces of safety equipment to install in your home, but did you know that you can pair this with a combustible gas detector to provide additional safety to your household?
What is a combustible gas detector?
Combustible gas detectors are devices used to detect the presence of combustible, flammable, toxic and oxygen-depleting gases in your home. They are typically used by large organizations using a large amount of gas, but can also be installed in residential homes for an additional layer of protection.
These devices use infrared point sensors, ultrasonic sensors, electrochemical sensors or semiconductor sensors to detect gas leaks. Through these sensors, a combustible gas detector will measure the concentration of gas in a specific area.
If this concentration of gas is too high, the combustible gas detector will sound an alarm.
Why are combustible gas detectors useful in your home?
Propane is designed specifically in a way that makes it easy to detect a leakage. In fact, propane leaks are easy to detect due to a chemical that propane manufacturers add to it - giving it a strong pungent smell that imitates the scent of rotten eggs.
However, if you have people living inside your house that may have difficulty smelling propane, or if the appliances are located in an area of your house that doesn't get used often, then combustible gas detectors are particularly useful.
Either way, just having a combustible gas detector will give your entire family peace of mind. In the unlikely circumstance of a propane leak occurring, the alarm will alert you to it - meaning you can get your family out of the house to ensure they are safe.
What should you look for when purchasing a combustible gas detector?
Your home should definitely have a carbon monoxide detector in it, that's why we advise you to look for a combustible gas detector that combines both carbon monoxide and propane leak detection. That way you'll get the best of both worlds!
Most importantly, you should choose a detector that is approved by Underwriter Laboratories of Canada (ULC). ULC is an independent product safety testing, certification and inspection organization, which will ensure any of the combustible gas detectors that have its marking are compliant with the organization's high safety standards.
What should you do if you suspect your propane tank is leaking?
If you suspect that your propane tank is leaking, then you should call your propane supplier immediately. If you are in an emergency situation, however, you should call 911 immediately to ensure your household is safe.
If you want more information on how to react in the event of a propane gas leak, read the information on our emergency contact page. Here we explain exactly what you should do in the event of a propane emergency, with some additional tips on how you can proactively minimize the risk of this ever happening.
Are you looking for more information about combustible gas detectors, or simply want to learn about the benefits of using residential propane at home? Contact our team of experts today. We would love to answer any questions that you have.