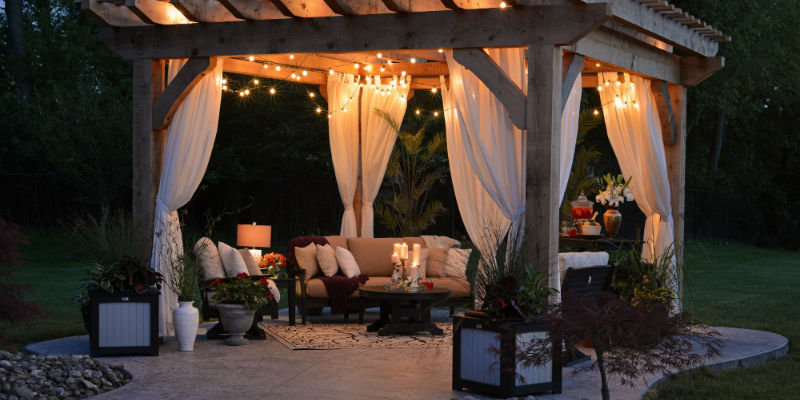 With Labour Day just around the corner, summer is unfortunately coming to an end. With the installation of a few propane appliances on your backyard's patio, however, you can keep enjoying your outdoor space until the snow arrives.
In this blog, Budget Propane Ontario will take a look at some of the propane appliances that will extend summer season at your Muskoka home or cottage and keep you outside even when the evenings get colder.
Firstly, what is propane?
Propane is a safe, efficient and reliable alternative to electricity that can offer your home or cottage in Ontario, Canada, a wide range of benefits.
Since it is a low carbon, clean-burning energy source that emits almost no air pollutants, it is incredibly eco-friendly when compared to other fuels. Not only that, but it also has a low carbon content, meaning it produces minimal emissions and is completely safe for the environment.
If your home or cottage makes the change to propane, you will find that you can easily cut down your household's heating and hot water bills since propane is incredibly cost-effective and far cheaper than other fuel choices.
Want to learn more about propane and how it's produced? Read our blog 'How is Propane Made and Why Does it Matter?'.
How propane can extend summer season at your home or cottage
Since propane is a highly versatile, cost-effective and efficient energy source, propane can power a wide range of appliances that you can use in your backyard to extend the outdoor season.
Here are just a few of those appliances that will allow you to keep enjoying your yard, pool and patio over the next few months:
Propane fire pit - A propane fire pit is a decorative structure that can be used as the focal piece for your outdoor living space. Made from concrete, brick or stone, propane fire pits come in a variety of shapes and sizes. By burning a propane fire pit on your backyard's patio, you'll be able to say warm and enjoy those cooler nights.
Propane lighting - With the sun starting to set earlier as the year comes to an end, and electric lights adding an extra expense to those monthly bills, why not consider propane lighting as a cheaper and more effective solution? Propane outdoor lighting comes in a variety of styles to suit your individual design taste.
Propane patio heater - Space heaters are an effective way to heat up smaller spaces, but propane space heaters can heat up much large spaces - including your outdoor patio. These heaters come in a variety of styles and colours to match your patio's decor, and will keep your guests warm throughout the night.
Propane spa heater - Want to keep your hot tub or swimming pool warm in the colder months? Use a propane water heater to save money and have more control over your hot tub or swimming pool. If you don't plan to heat your hot tub or swimming pool every day, then a propane water heater is the perfect solution as it will heat the water much quicker than any other solution on the market.
Want to hear about other ways you can extend your summer season with propane, or simply want to enquire how much a propane tank would cost for your home or cottage? Contact Budget Propane Ontario today, we would be more than happy to help with any questions you have.