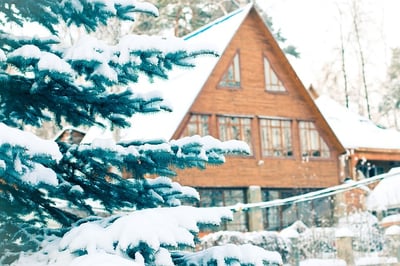 It's something that slips your mind. It's the holiday season so you're constantly traveling, or perhaps you're going to a warm destination for your family vacation. What is one thing that you always forget to do? For some, turning your thermostat down to cooler temperatures makes sense when you are leaving a home or cottage for a lengthy period of time. This way you are saving on your energy bills, whether it be electricity usage, oil and even propane. This is not what you should do.

Cooling a house or cottage for a lengthy period of time, or at all during the winter can actually cause a lot of harm to the structure of your home, as well as everything in it. By turning your heat down or off completely, you are creating an environment that could cause water pipes to freeze which can trigger extensive damage.

When a water pipe bursts, your home could be flooded within minutes. This leaves you coming back from holidays with family and friends, or returning for the summer season to what could be a huge loss. Flooding can destroy the foundation and structure of your home, causing mold and bacteria, which is costly to repair. Not to think of all of your belongings as well. The last thing you want to do after a relaxing time away from your home or cottage is to come home and have to deal with collecting house insurance because of a burst water pipe.

In order to prevent this from happening, the best practice you could do is set your thermostat to no lower than 50 degrees Fahrenheit/10 degrees Celsius. This way you will come home to a dry and structurally safe home or cottage as well as a light heating bill, which is definitely worth it in the long run.
If you are concerned about your winter heating bill, perhaps you should look into installing a propane tank as well as a propane operated furnace and water heater. Learn more in our E-book, "The Benefits of Switching to Propane From Oil or Electricity".
Budget Propane supplies the world's most eco-friendly gas to your home or office on demand. Call 1 888 405.7777 to have Budget Propane install tanks and lines, place remote tank monitors, or provide technical support for your home, business, or contracting job. We deliver throughout central Ontario; Huntsville, Bracebridge, Haliburton, Muskoka, Bala, Midland, Orillia, Barrie, Alliston... and more! Visit us online at www.budgetpropaneontario.com