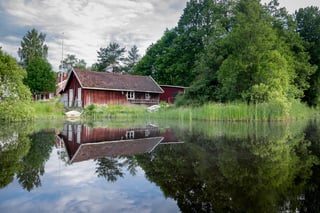 Ahhh spring! Finally, warmer weather awaits us ahead. Many cottagers get their cottage ready on the May long weekend, but why wait? Beat the cottage rush traffic and get yours ready ahead of time! There are a few steps you need to take to make sure your cottage is ready for you and your guests to enjoy safely.
Walking inspection outside
Do an inspection around your cottage. Look for any obvious safety issues that may have arisen over winter, such as low-hanging/broken tree branches, shifted foundation, damaged roof, etc. You should also look for holes, torn window and door screens, or broken windows that animals may have gotten through to nest in your cottage.
Also, check your deck for broken or splintered boards, nails that might be sticking out, etc. While you're out there, take a look at your dock as well. Reposition and anchor it, and check that all of the pieces are secure in place.
Clean up any debris on your property that could pose a safety or tripping hazard. Fill potholes in your driveway. Rake away dead leaves, sticks, and other debris.
Walking inspection inside.
Next, take a walk inside your cottage. Check closets, pantries, and cupboards for signs of animal nesting or damage. Look for mice droppings or bug remains. If you see any holes make sure to fill and seal them.
While you're inside, make sure to check the batteries in your smoke and carbon monoxide detectors, and the expiry date on your fire extinguisher.
Propane
Before you turn your propane back on, you should book an inspection, especially if your propane and appliances have sat unused all winter. Check your appliances for animals before turning them on. Next, open up all of your windows in the cottage to ensure proper ventilation and air flow.
If you've recently had a professional inspection, you can do a preliminary check of your tank, hoses, and connections before turning anything on. You can check for leaks using soapy water, if you see bubbling, you know there is a leak and you can call us to have these remedied. Open the valves on your appliances first, and then open the main valve Make sure you fill your hot water tank with water before you turn it on.
Reconnect your water
Fill your water heater with water before you turn it on. If you use a shallow well, make sure it gets cleaned out, and you test the water regularly.
Replenish your medicine cabinet and first aid kit
Check for expired medication or supplies and restock the first aid kit. If you are unsure what to stock in your first aid kit, you can check this list from the Canadian Red Cross: http://www.redcross.ca/training-and-certification/first-aid-tips-and-resources-/first-aid-tips/kit-contents While you're doing this you can also make sure to replace the batteries in your smoke and carbon monoxide detectors and check the expiry date on your fire extinguisher.
There is one more step, possibly the most important! ENJOY! Once the weather gets a bit warmer, you'll be ready to break out the Muskoka chairs, open your favourite beverage, and enjoy your cottage!
Budget Propane supplies the world's most eco-friendly gas to your home or office on demand. Call 1 888 405.7777 to have Budget Propane install tanks and lines, place remote tank monitors, or provide technical support for your home, business, or contracting job. We deliver throughout central Ontario; Huntsville, Bracebridge, Haliburton, Muskoka, Bala, Midland, Orillia, Barrie, Alliston... and more! Visit us online at www.budgetpropaneontario.com