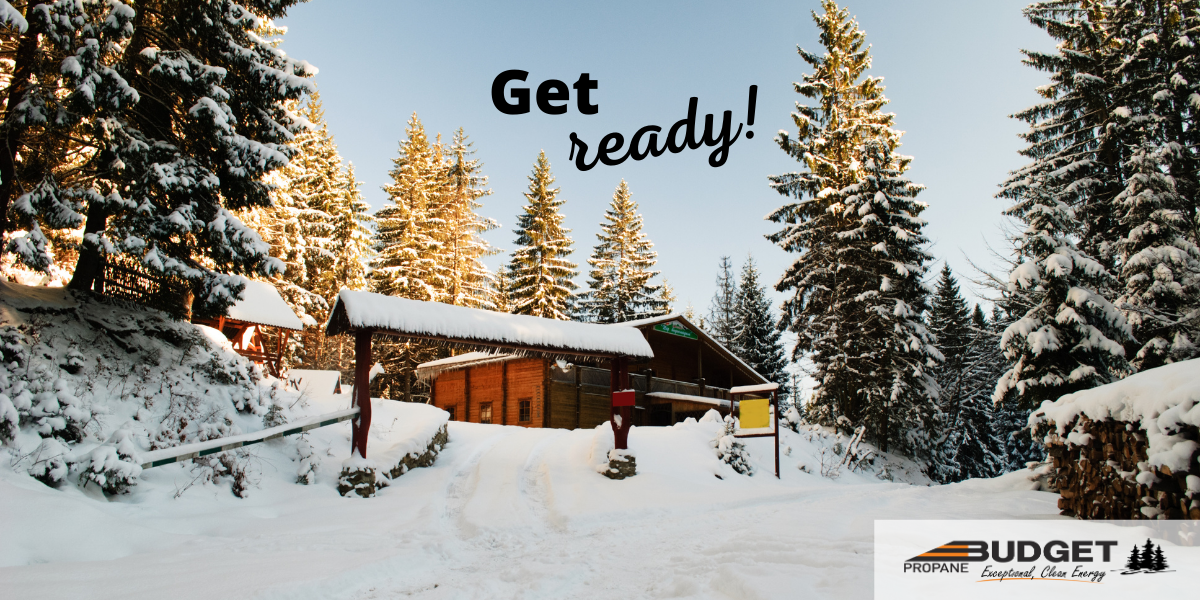 It's been a beautiful fall so far. The colours have been spectacular. And while you are enjoying the fall leaves and other fall harvest activities, it's hard not to notice that the weather is changing and it's getting colder as we move towards November.
If you haven't already done so, it's time to get your seasonal holiday cottage ready for winter. There are a number of steps you can take now, to ensure your cottage will be secure and safe from damage during the winter ahead.
To help you get your cottage ready for the winter season, Budget Propane Ontario has created a list of five helpful tips:
1 - Leave the heat on
Whether you are completely closing your cottage for the winter season, or simply preparing it for occasional use, it's tempting to completely turn off the heat in your cottage to save money.
This, however, is not a good idea. When you turn down the heat in your cottage you are creating a scenario where your water pipes could freeze up. If your water pipes freeze, they can then burst and cause severe flooding damage to your property.
You don't have to keep your heat as high as you normally would to avoid this situation - leaving your heat on anywhere from 5°C to 10°C should prevent your pipes from freezing.
2 - Double check your water
Even if you leave the heat on to protect your pipes, it's important to shut your water off to add an additional layer of protection to your pipes. For example, if the power in your cottage goes out while you're not there, the pipes could freeze and burst if your water is turned on.
By turning off your cottage's main water supply you will eliminate this risk. If you want to go one step further, you can also drain the pipes to ensure no existing water freezes. This will protect your pipes, as well as your electric or propane water heater, from freezing.
3 - Ensure your propane tank is full
If your cottage is powered by propane, you are going to want to ensure that your propane tank is full. Taking the necessary precautions and leaving your heating on, only to find your propane tank has run out and your heating system turned off is an absolute nightmare.
Make sure your propane tank is completely full before you lock up your cottage, and talk to your propane supplier about scheduling regular visits. A propane tank monitor is particularly useful, as this will alert your propane supplier when your propane levels are starting to get low - and your supplier will automatically come and refill your tank to ensure you don't run out.
4 - Lock your windows
Cottages are susceptible to criminal activity during the winter months as most thieves are aware that their owners are probably unlikely to turn up. Even if you have a neighbour watching your property or you have a strong security system, it's still essential that you ensure all your windows and doors are locked.
Make sure everything including your windows, shed, guesthouse and your garage are all locked - and store any expensive equipment away in locked buildings. It's important you do this to meet the criteria of your cottage insurance company.
5 - Unplug major appliances
Turning off any electric, gas and propane appliances that won't be used will help you save money and also add an extra layer of safety to your cottage. Saying that, as mentioned earlier, it's important not to turn your heating off and it can be a good idea to leave some lighting on a timer for security purposes.
You should also disconnect and store any propane appliances properly, whether it's a barbecue, patio heater, fireplace or propane tank. By closing the valve on your smaller propane tanks, disconnecting them and storing them upright in a dry ventilated space, you'll avoid any propane leaks while you're away.
Do you have any further questions about properly securing your cottage during the winter months, or want to know how to schedule automated propane deliveries so your cottage doesn't run out of power? Contact Budget Propane Ontario today.