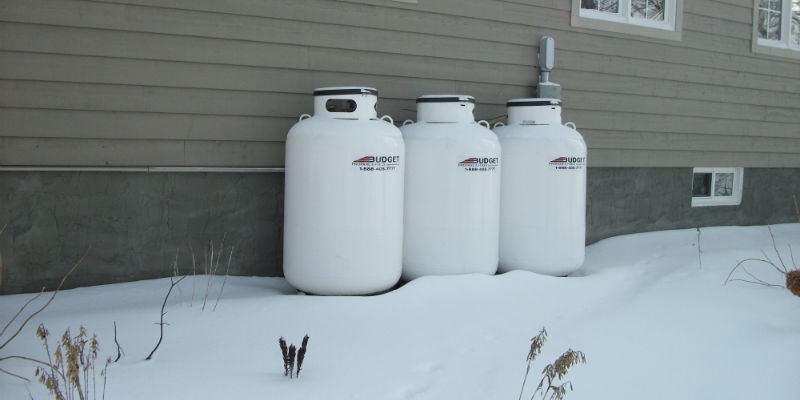 Residential propane use comes with a range of benefits for your household, from saving you money on your utility bills each month, helping you to lead a more environmentally-friendly lifestyle, as well as being a far safer option than other energy sources on the market.
If you are new to propane use, it's possible you are thinking something along the lines of: "What on earth are all of these markings on my propane cylinder, and what do they mean?"
At first glance, the markings on your propane cylinder probably mean absolutely nothing to you. However, understanding them can greatly assist your propane usage - ensuring you're able to use propane properly, manage your supply and use your cylinder safely.
To help you understand the markings on your propane cylinder, Budget Propane Ontario has listed the most important ones here:
The requalification date
In Ontario, it is regulated by law that refillable propane cylinders must be replaced or inspected and requalified by a Transport Canada-registered requalifer every 10 years.
In fact, it's against the law to fill an expired or damaged cylinder.
That's why it's important for all propane tank owners to be able to find when their last requalification happened - there may be multiple dates if you have owned the propane tank for a long period of time.
10 years from the last date stamped is the next time that your propane cylinder needs to be requalified by certified professional.
The easiest way to find the requalification date is to find a sequence of numbers and letters that end in 'E'. The requalification number will include the month of requalification, the requalifier's registered mark, the year of requalification and the letter 'E' which stands for 'external visual inspection'.
The manufacture data
Not sure how long you have owned your propane tank for? The manufacturer date will show the month and year that it was manufactured, and potentially even include an inspector's symbol. If your propane tank is new, you'll need to requalify your propane tank 10 years after this date.
The manufacturers name, symbol or serial number
This marking shows which propane supplier manufactured the cylinder.
Transport Canada specification
This marking shows that your propane cylinder has been designed to meet Transport Canada specifications, meaning it can be legally used and filled in Ontario. This number can be found by searching for the marking with the letters 'TC'.
Propane tank gauge
While it's not a marking, it's also important to be able to read your propane cylinder's gauge. Your gauge will tell you how much propane you have left in your tank, which is a good indicator of when you need a refill. Read our blog titled 'Why is my Propane Tank Only 80% Filled?', to learn how to read this gauge.
Water capacity
This marking is the water capacity of the cylinder in litres.
Tare weight
This is the weight of the empty cylinder in kilograms.
There's no one way that these markings will be displayed on a propane cylinder. When purchasing your first propane tank, make sure your propane supplier runs you through the markings on the cylinder and what they mean. This will ensure that your household is ready for the proper care and maintenance of your propane energy.
Do you have any further questions about your propane cylinder, or simply want a quote for propane delivery? Get in touch with Budget Propane Ontario today. We would love to help.