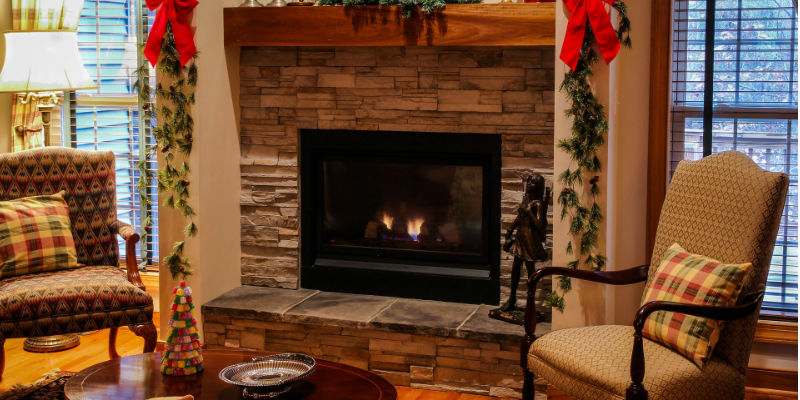 It's finally winter and the Muskoka region hit -18 last night, which means it's time to warm up by the fire.
In a previous blog, titled "5 Benefits of Owning a Propane Fireplace This Winter", we talked about all of the reasons that propane fireplaces are a great option for any home. From their minimal maintenance requirements and budget-friendly operation to their efficiency and environmental friendliness, propane fireplaces are great for a cozy evening and warming up your house.
We also talked about how safe propane fireplaces are – not only do they not emit fine particulates which can be hazardous for health, there is no open flame. Instead, a layer of glass protects people, especially children, and pets, from placing their hands in the fire.
This also means you can leave them unattended without worrying about an accidental fire starting outside of the hearth.
However, like any heating appliance, when operating a propane fireplace, you must still practice fireplace safety. Budget Propane Ontario has listed 10 tips here to help you perform propane fireplace best practices:
While the glass front of a propane fireplace prevents severe burns from direct contact, the glass can get hot. Using a fireplace screen can help ensure nobody gets any unwanted surprises.
Let the fireplace sit for at least thirty minutes before touching any part of it after it turns off. The surface can retain heat, and this will ensure you don't get burned.
Use your propane fireplace as an opportunity to discuss fire and stove safety with children.
Ensure your kids know not to operate your appliance without supervision. Keep controls out of reach of children so that they do not operate the fireplace alone.
Read and follow the unit's instructions so that you can ensure you and your loved ones stay safe and that your fireplace is properly maintained for optimal efficiency.
If you smell gas, shut off the gas, leave the area immediately and extinguish any source of flame or spark. Report the leak to the authorities and call your gas provider. Do not enter the building until your system has been inspected and repaired by professionals.
Keep paper, furniture and other objects clear of the fireplace to prevent damage and minimize fire hazards.
Ensure you have operational smoke detectors and carbon monoxide detectors in your home.
If your fireplace is vented, ensure the chimney and flues are properly maintained and inspected for damage, blockages and debris.
Have your appliances inspected for water damage on a regular basis. If electrical components get wet, it can become a fire hazard.
For more information on fireplace safety or to discuss a propane fireplace in your home, contact us today.