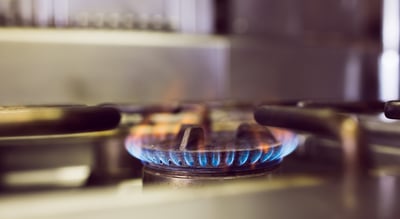 Propane is an environmentally-friendly choice of fuel for your home or cottage. When considering propane as a source of fuel to your home, remember the amount of money you will save annually.
Propane appliances are available to customers and
surveys
have shown that most people prefer to cook using gas ovens and stoves than any other fuel. Propane-fueled cooktops and ovens offer instant heat and absolute heat control, making it unique and precise when compared to other cooking appliances. Cooks love the ability to quickly adjust the temperature they wish to have in seconds.
Here are some benefits of cooking using a propane stove/oven:
EVEN HEAT DISTRIBUTION - The flames on a propane cooktop allow even heat distribution throughout the entire pot/pan, heating food more evenly.
GREEN GAS - Propane gas cooktops are more

environmentally-friendly

than electric ones. Propane gas emissions are low. Propane is clean burning, releasing a very low amount of emissions that are much lower than that released by other types of fuels.
COST EFFECTIVE - Propane cooktops may be more expensive to buy, but they will help you save money. When speaking about utilities, gas is cheaper than electricity and a propane gas cooktop will help you save money. Cooking will stop as soon as the gas is turned off and also it heats up faster than electric cooktops, making cooking easier and faster. This makes propane cooktops a better choice in terms of energy efficiency. A gas stove typically costs 10 to 30% less to operate than an electrical stove, according to Bob Vila (https://www.bobvila.com/articles/gas-vs-electric-stove/#.WhL9KBOPKi5).
POWER OUTAGE SAFE - unlike electrical appliances, many of propane appliances will not stop working during a power outage. You can use it either to boil water or cook and eat well while there is no power in your home.
In rural or recreational areas, propane is the most widely available fuel sources, and it is exceptionally economical. This makes propane budget friendly! As with any fuel source, it is vital to know the best possible security safeguards when cooking in your home. This will guarantee that your family gets a delicious meal and everyone is happy and healthy.
Are you a
h

omeowner
interested in switching to propane gas? Are you building or do you own a
cottage
? Remember: propane can be used all around your home for heating, cooking, water heating and many other ways. If you are interested in switching to propane or are looking for a propane supplier, give us a call! We will happily answer any questions you may have.
Contact us
today!