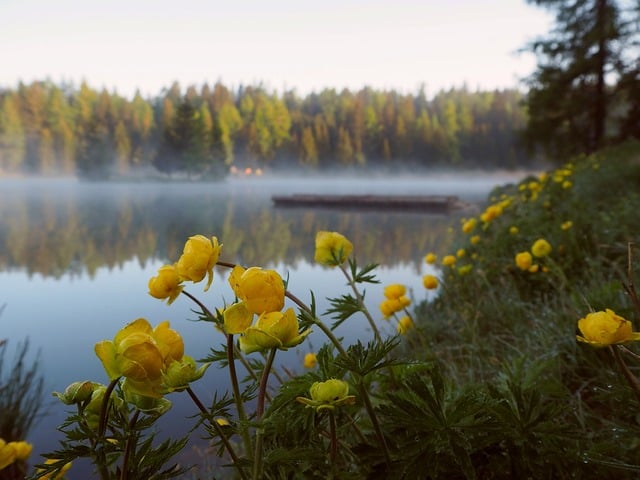 The long wait is finally over! It's officially Spring and you are probably planning a trip up to the cottage. Opening up a cottage after a long and cold Canadian winter can be very overwhelming, and if there is any damage you will need time to fix it before you can relax and enjoy your summer weekends.
Even if you don't completely shut down your cottage during the winter, it is important to have a checklist to get your cottage ready for the summer season.
A good way to start getting your cottage ready is to do a spring cleaning and clear out objects that you will no longer use during the summer. Calloway Storage offers new portable storage units to help you storage items that are only used during specific seasons. You can simply have a portable storage unit delivered to your house, and once you are done with your spring cleaning project, you can either keep it on your property or have it picked up and kept at a facility where all your belongings will be stored in a safe, clean and dry space.
Below is a list of tips that will not only help you get your cottage ready for the best season of the year, but will also help you have a stress-free summer:
1- Do a walk-around visual inspection of your cottage once you arrive
2- Clean out your eavestroughs of winter debris and check for any damage
3- Before turning your furnace on, check for animal/ rodent damage or nests
4- Change the batteries for your smoke and carbon monoxide detectors
5- It is important to check your power lines and report any damage to your local utility provider
6- Check your ceiling for potential water damage
7- Clean debris off your property and inspect the treeline for potential safety hazards.
8- Check your window and door screen for holes and replace if necessary
9- Clear out objects that are only used during certain seasons, remember it is important to keep your property junk free to avoid any unwanted visitors such as rodents
If your cottage uses propane as any source of fuel it is important to check a few things before opening your cottage this spring:
If you did not use your propane furnace or appliances all winter, spring is a great time to book an annual inspection. It is also important to check for any leaks in your propane lines, and that can be done by simply washing fittings and hoses with soapy water. If you see bubbles, there may be a leak. Leaks can also be found by detecting an odour in the air (that smells similar to rotten eggs!). If you suspect of any leaks on your propane lines, leave the property immediately and call your propane supplier.
Once you've tackled the main items on your list, you can focus your attention on cleaning and disinfecting the inside of your cottage. Make sure you give yourself enough time to get your cottage ready for the fun days to come ahead and then sit back, relax and turn on your barbecue grill to enjoy the rest of the cottage season.
Budget Propane supplies eco-friendly propane to your home or office. Call 1 888 405.7777 to have Budget Propane install tanks and lines, place remote tank monitors, or provide technical support for your home, business, or contracting job. We deliver throughout central Ontario; Huntsville, Bracebridge, Haliburton, Muskoka, Bala, Midland, Orillia, Barrie, Alliston... and more!
Visit us online at www.budgetpropaneontario.com.