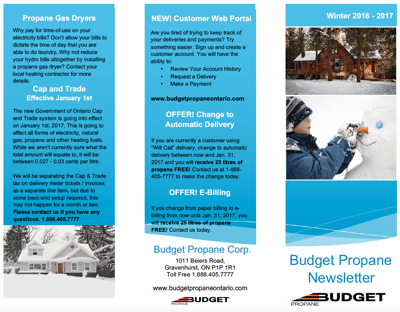 Winter is well underway and business is booming. We wanted to help keep our customers informed about what's new with us and what's new with propane. Therefore, we have created an informative newsletter for our customers as well as those who are interested in switching to propane and wanting to learn more about it.
In this blog you will have access to the Budget Propane Winter Newsletter which can help you learn some key winter tips for propane deliveries, as well as some resourceful additions that we have made for our customers to the Budget Propane website.
One key point from our newsletter that we would like to point out is that we are giving away 25 litres of propane free until January 31, 2017. All you need to do is either change from paper billing to e-billing or change your delivery service to automatic from "will call" delivery. What better way to start off the new year than by receiving free propane to help with your bills?
Click here to view the full version of our Budget Propane Winter Newsletter.
Budget Propane supplies the world's most eco-friendly gas to your home or office on demand. Call 1 888 405.7777 to have Budget Propane install tanks and lines, place remote tank monitors, or provide technical support for your home, business, or contracting job. We deliver throughout central Ontario; Huntsville, Bracebridge, Haliburton, Muskoka, Bala, Midland, Orillia, Barrie, Alliston... and more! Visit us online at www.budgetpropaneontario.com