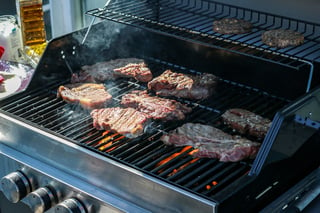 With mid-November upon us, winter is coming closer and closer. Before temperatures drop too much, this time of year is a great time to finish up your outdoor winterizing.
We all go through our regular winterizing routine of wrapping trees, raking leaves, cleaning evestroughs, sealing windows and perhaps even winterizing our cars. But your propane grill should also be winterized to help keep it safe and lasting for many years to come.
Here are some easy and simple steps to help keep your propane grill stays in working condition:
Shut off the propane tank - Before you start anything inside your grill, be sure to shut off the propane gas line.
Take apart the cooking surfaces - Propane grills are normally only a couple peices: the burner cover(s) and grill surface but certain grills will have more parts.
Thoroughly clean the inside and parts - Cleaning the grease, food and anything else which may be in your grill is the first thing to do. Grease can corrode the inside and attract animals through the winter season. The best tools to use are a grill brush and some grill cleaning foam. Be sure to dry off all parts with a microfiber cloth before putting them back in the grill.
Coat metal parts - Coating the metal parts of your grill such as burners, grill surface and gas-pipes with a spray cooking oil will help repel moisture to prevent rust from forming throughout the winter.
Remove igniter battery - Removing the igniter battery will avoid the battery from bursting and causing corrosion. By simply taking the battery out and re-adding it in spring, you will keep the igniter sparking for much longer.
Propane tank storage - If storing the bbq in a shed or garage, be sure to store the propane tank separately outside. If the grill remains outside, the tank can remain connected but ensure everything is in the 'off' position.
Cover your grill - One of the most important steps (especially if you don't do the other 6) is to use a grill cover to protect your grill from the bulk of the weather.
There are many other steps which can be taken to winterize your grill, but these 7 are an excellent place to start to help keep your grill ready to use for when the warm weather returns.
We Deliver Quality Propane and Provide Friendly Customer Service Throughout Central Ontario!
Budget Propane Ontario supplies bulk propane to residential, commercial, and construction sites in central Ontario. Call us to discuss your needs and to learn about the benefits of using propane. 1 888 405.7777.