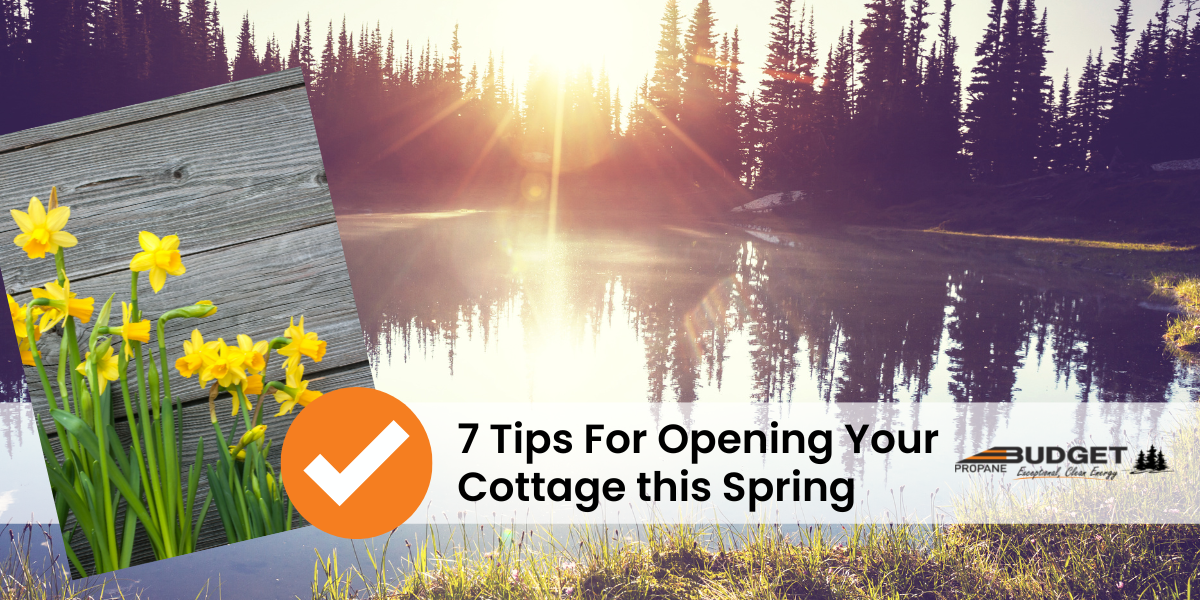 As the winter snow melts away, seasonal home owners in central Ontario, including popular cottage destinations such as Muskoka and Haliburton, eagerly look forward to the start of spring so they can re-open their cottages.
If you're one of these people, you may be wondering what steps you should take to ensure that your cottage is ready for the season ahead. Here are some tips to help you get started.
Check for Winter Damage
Before you head inside, it's important to inspect your property for any winter damage. Do a walk around and check for any damage to the roof, windows, doors, or siding. Look for any signs of water damage, such as mold or mildew, which can indicate a leak.
Turn on Utilities
Next, turn on your utilities. This includes water, and gas if applicable. If you use propane appliances in your cottage make sure to check the propane tank and lines for leaks or damage or contact your propane supplier for an inspection.
If you've recently had a professional inspection, you can do a preliminary check of your tank, hoses, and connections before turning anything on. You can check for leaks using soapy water, if you see bubbling, you know there is a leak and you can call us to have these remedied. Open the valves on your appliances first, and then open the main valve Make sure you fill your hot water tank with water before you turn it on.
Check that all appliances are working properly, including propane appliances such as stoves, ovens, water heaters, and furnaces. If you notice any issues with your propane appliances, contact a professional technician to address them.
Clean the Interior
One of the opening day tasks is spring cleaning the interior of your cottage. Dust and debris can accumulate during the winter months, so give your cottage a thorough cleaning. Start by dusting all surfaces, including furniture, shelves, and windowsills. Sweep or vacuum the floors, and wash the windows to let the natural light shine in. Clean out the refrigerator and freezer, and dispose of any expired or spoiled food. You'll may want to rewash towels and linens if they've been stored at the cottage all winter.
Check Safety Equipment
Make sure that your cottage has working smoke detectors and carbon monoxide detectors. Replace the batteries in these devices if necessary. Check that all fire extinguishers are up to date and in good working order. If you have propane appliances, make sure that your carbon monoxide detectors are specifically rated for use with propane.
Restock Supplies
Restock any supplies that you may need during your stay in your cottage. This includes groceries, cleaning supplies, toiletries, and other essentials. Check that you have enough propane if you have propane appliances such as a grill or a generator. Propane cylinders should be stored outdoors in a well-ventilated area, and away from any sources of heat or ignition.
Check for expired medication or supplies and restock the first aid kit. If you are unsure what to stock in your first aid kit, you can check this list from the Red Cross.
Take Steps to Prevent Pests
Spring is also the time when pests begin to emerge from their winter hiding places. Take steps to prevent pests from entering your cottage by sealing any cracks or gaps in the exterior. Make sure that all windows and doors have tight-fitting screens, and that all food is stored in airtight containers.
Make a Checklist
Finally, make a checklist of everything that you need to do to open up your cottage. This will help you stay organized and ensure that you don't forget anything important.
There is one more step, possibly the most important! ENJOY! Once the weather gets a bit warmer, you'll be ready to break out the Muskoka chairs, open your favourite beverage, and enjoy beautiful central Ontario!
Call 1 888 405.7777 to have Budget Propane install tanks and lines, place remote tank monitors, and provide propane deliveries for your home, business, or contracting job. We deliver throughout central Ontario; Huntsville, Bracebridge, Haliburton, Muskoka, Bala, Midland, Orillia... and more!
Visit us online at www.budgetpropaneontario.com