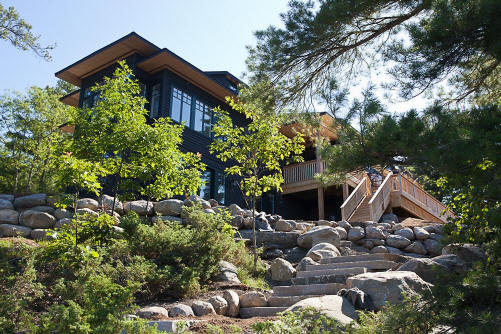 Spring has finally arrived and you probably have one thing on your mind – it's time to open up the cottage! While some cottage owners wait until the weather warms up in May - lots of owners want to visit earlier and use the time to get their cottage ready to receive the family. Here's some helpful tips to put on your checklist!
Turning on Your Propane Appliances
One of the first steps is getting your appliances set back up. If you didn't use your propane furnace for the entire winter, spring is a great time to book an annual inspection.
When you're ready to proceed, begin by inspecting the condition of the tank, hoses and connections. If everything looks good, go ahead and open up all of your windows and then turn on your tank. Opening your windows is an important step – it will make sure your cottage is fully ventilated while also letting all of that fresh spring air into your cottage!
You can test for leaks in your propane lines by washing fittings and hoses with soapy water. If you see bubbles, there may be a leak. If you suspect a leak, either from bubbling soap around your hose or fittings or by detecting an odour in the air (that smells like rotten eggs!), follow these steps.
If you detect a leak you should:
Extinguish all smoking materials and open flames. Do not create any sources of ignition by using flashlights, cell phones or electrical switches.
Get everyone out of the building immediately.
Shut off the propane. If safe to do so, turn off the main supply valve on your propane tank.
Report the leak. Call your propane supplier's emergency phone number [Budget Propane

1-888-405-7777

24 hours a day, 7 days a week] or 911. Do not re-enter the area until cleared to do so by a qualified service technician or emergency responder.
Get your system checked. After the area has been deemed safe, a qualified service technician must repair the leak, turn on the propane, and check and re-activate the propane appliances.
Once you have completed your inspections, you can go ahead and reconnect your appliances. Before you turn on your water heater, make sure it's filled with water.
When opening your cottage, you should also:
Inspect indoor and outdoor wiring for damage from rodents.
Change batteries in your smoke and carbon monoxide alarms.
Visually inspect any power lines leading to your cottage and report damage to your utility company.
Check your window and door screen for holes and replace if necessary.
Reconnect your water pipes.
Check the expiry date on your fire extinguisher and replace if expired.
Clean debris off your property and inspect the tree-line for potential safety hazards.
Inspect your ceilings for any potential water damage.
Check cupboards, dressers and appliances for animal nesting spaces.
Covering all these items will give you peace of mind to know that everything is safe and ready for the family to return to the cottage.
Interested in become a Budget Propane customer? Contact us today for a free cottage propane quote:
We Deliver Quality Propane and Provide Friendly Customer Service Throughout Central Ontario!
Budget Propane Ontario supplies bulk propane to residential, commercial, and construction sites in central Ontario. Call us to discuss your needs and to learn about the benefits of using propane. 1 888 405.7777.