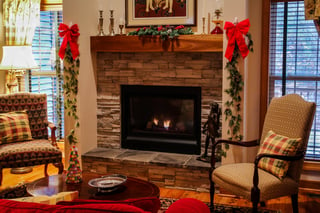 Fireplaces are a centerpiece in many homes, bringing families together not only with their warmth, but also with their styling accents to produce a cozy atmosphere.
Propane fireplaces provide a great alternative to regular wood or electric fireplaces, and have their own list of benefits.
Certain propane fireplaces don't require a chimney - In a regular fireplace, air is taken from in the room to burn and feed the flames. Because warm air rises, this causes a lot of the precious heat to go straight up and out.

No tending and minimal cleanup

- Propane fireplaces don't require the constant adding of different sized logs and after the fire has gone out, you aren't left with the soot which has to be cleaned after every use.

Cheaper to operate

- Although the initial price of a propane fireplace may be higher than other kinds such as electric. The price over the lifetime of a propane fireplace, with propane being one of the most efficient heating sources will greatly outweigh the competition.

Convenience

- Many propane fireplaces can be controlled by remotes, giving you features such as button ignition and variable heat controls & thermostats. Providing you with the comfort of a fireplace without any hassle.

Efficiency

- Propane fireplaces can burn for 40 times as long as a wood fireplaces and certain models can produce five to six times the heating capacity of electric fires.
Propane is a safe, comfortable and affordable alternative to electric or wood fireplaces and are available in many options such as inserts to replace your wood fireplace, or as standalone units you can put anywhere!
We Deliver Quality Propane and Provide Friendly Customer Service Throughout Central Ontario!
Budget Propane Ontario supplies bulk propane to residential, commercial, and construction sites in central Ontario. Call us to discuss your needs and to learn about the benefits of using propane. 1 888 405.7777.