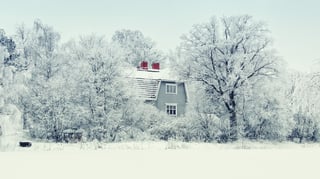 The winter season has finally arrived and most people are preparing to travel to a warm place for a couple of days or even months. Vacation is the time to relax, and spend some time with your loved ones, but most of the time people are so busy preparing to leave, that they forget to get their own home ready for while they are away. For some, turning the thermostat down to cooler temperatures makes sense when you are leaving a home or cottage for a lengthy period of time. This way you are saving on your energy bills, whether it be electricity usage, oil and even propane. But you need to consider how low to set the temperature and for how long.
Cooling a house or cottage for a lengthy period of time, or at all during the winter can actually cause a lot of harm to the structure of your home, as well as everything in it. By turning your heat down or off completely, you are creating an environment that could cause water pipes to freeze which can trigger extensive damage.
When a water pipe bursts, your home could be flooded within minutes, and in case you are away on vacation when that happens, it might leave you coming back from holidays with family and friends, to what could be a huge disaster. Flooding can destroy the foundation and structure of your home, causing mold and bacteria, which is costly to repair. Not to think of all of your belongings as well. The last thing you want to do after a relaxing time away from your home or cottage is to come home and have to deal with collecting house insurance because of a burst water pipe.
In order to help you reduce your risk of experiencing a burst pipe, regular maintenance of your home's plumbing system, and taking preventative measures to prevent frozen pipes are crucial. It is important to always know where your main water supply valve is located, this could be useful in case of an emergency because it will allow you to cut off a home's entire water supply while you fix the problem. Also make sure to fix any leaky faucets and check under sinks for dripping, water pressure could be building up and that is one of the main reasons that could cause a pipe to burst.
If your plan is to be away from your house during a short or long period of time, you need to be prepared to get your house ready to have a safe and problem free house to return to when you are back from your vacation.
Here are some energy efficiency tips for while you are away on vacation this winter:
1- The best practice you could do is set your thermostat to no lower than 50 degrees Fahrenheit/10 degrees Celsius. This way you will come home to a dry and structurally safe home or cottage as well as a light heating bill, which is definitely worth it in the long run.
2-Don't forget about your water heater. You should leave the water heater on at the lowest temperature possible to keep the water from freezing in the lines and tanks.
3-Unplug any unnecessary appliance and electronics. Your freezer/fridge can be set on a lower temperature (5 degrees for the freezer and 42 degrees for the refrigerator) but should not be unplugged since you probably have food in them that will need the cool temperatures to keep them preserved. But someone should walk around the home and unplug televisions, lamps, coffee pots, digital clocks and cell phone chargers. These appliances/electronics all drain energy when plugged in. This will help you save money on your energy bill and have a safer house for when you are away on vacation.
4- Lower your blinds and close your curtains. Blinds and curtains can help you conserve heat in your house during winter time. So prior to your departure make sure all your curtains and blinds are closed. This will help to avoid heating out of your house, saving you money on your energy bill.
If you are concerned about your winter heating bill, perhaps you should look into installing a propane tank as well as a propane operated furnace and water heater. Learn more in our E-book, "The Benefits of Switching to Propane From Oil or Electricity".