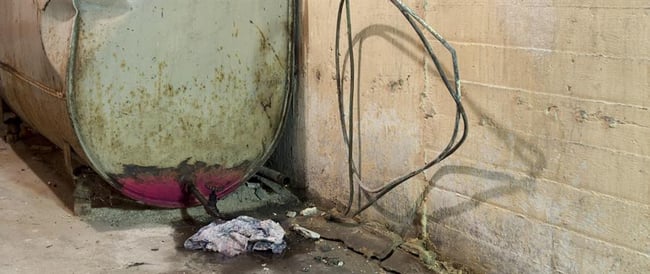 Propane and oil are both commonly used residential and cottage fuel choices in central Ontario. But if you're one of the 1.1 million households in Canada using oil, you may be putting yourself at risk. The Insurance Bureau of Canada confirms that $78.5 million was paid out on oil tank spills from 2008 to 2011.

But did you know that even if you have insurance, you may still be liable for clean-up costs?
1 Litre of Leaked Oil Can Contaminate 1 Million Litres of Water
Leaks and spills from a home oil tank are dangerous and costly. After an oil tank spill, the average cost for cleanup is $250,000 to more than $500,000 and includes:
Replacing the tank and supply lines
Removing contaminated soil from around your home
Replacing your home's foundation
As a homeowner with an oil tank on your property, you are responsible for year-round maintenance of your oil tank. If there is a spill or leak of oil from your property, you could be entirely responsible for all of the costs associated with the clean-up! It is critical that you monitor the condition of your tank. The main causes of tank failure are:
45% corrosion (28% outside tanks and 17% inside tanks)
Piping 29% (outside pipes 19% and inside pipes 10%)
Over Fill 11%
Other 15% (New installations 5%, vandalism 2%, misc. 8%)
Home insurance policies do not typically cover the loss or damage to your property resulting from an oil spill.
Liability coverage may cover the costs you incur when an unintentional oil spill on your property contaminates neighboring properly.
Switch to Propane
Propane is a safe, cost-effective and environmentally friendly fuel choice for your home and cottage. It does not have the same liabilities associated with oil – a propane tank is 20 times more puncture-resistant and can withstand up to 4 times the pressure when compared to a typical gasoline, methanol, or ethanol tank.
In the rare event of a propane leak, propane will not create an environmental hazard. If released, propane becomes a vapour and dissipates quickly into the atmopshere, and will not contaminate water or soil. While propane vapour is heavier than air and can settle in low-lying areas or closed spaces, even a small amount of air movement is enough to disperse the vapours.
Propane is a clean-burning, non-toxic energy source that produces far fewer emissions than oil. Make the switch from oil today and reduce your risk of costly oil spills and environmental damage.
Sources: Insurance Bureau of Canada, Whitley Insurance and Financial Services
Contact us today for more information about propane vs. oil or for a no obligation quote for your home or cottage!
We Deliver Quality Propane and Provide Friendly Customer Service Throughout Central Ontario!
Budget Propane Ontario supplies bulk propane to residential, commercial, and construction sites in central Ontario. Call us to discuss your needs and to learn about the benefits of using propane. 1 888 405.7777.