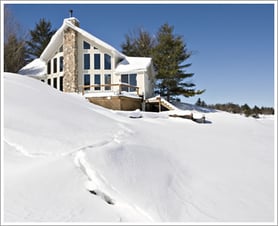 Propane can be used year round and so is a perfect energy source for most of Ontario. It is very versatile and usable in most temperatures we experience; from our hot summers to our freezing winters propane will work year round.
One of the most important things to do is ensure that your propane tank is uncovered and free of snow. While many people think that you need to insulate your propane tank, the heat from the daytime sun is a great way to keep your tank warm. Keeping your propane tank clear of snow is also important in case of emergencies, and makes it easier when it comes time to replace your tank.
In extremely cold conditions, around -40C, there may not be enough vapour in your tank to keep your propane appliances working. While people will sometimes think that their propane has 'frozen', what actually happens is the propane is not boiling inside the tank and turning into gas.
NEVER use a flame or extreme heat to try to boot your tanks pressure, this can lead to serious accidents and is easily avoidable. Avoid pouring hot water on the tank as this can cause damage to the piping and regulators, and can also lead to major issues.

In winter, your propane appliances will keep your home or cottage safe, warm, and enjoyable. For our climate in Southern Ontario, it's a perfect energy source for year round operation.
We Deliver Quality Propane and Provide Friendly Customer Service Throughout Central Ontario!
Budget Propane Ontario supplies bulk propane to residential, commercial, and construction sites in central Ontario. Call us to discuss your needs and to learn about the benefits of using propane. 1 888 405.7777.