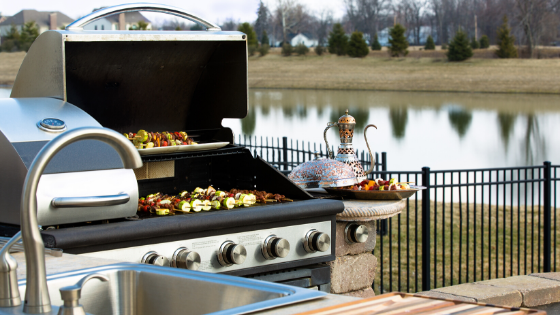 It's May and unbelievably we had snow! But, the warm weather is on the way, which means more dinning outside and finally prime-time for barbecuing! When taking your barbecue out of storage for first grill of the season, or maybe you're setting up a brand-new BBQ, there are some checks that should be done to ensure safety throughout the summertime. Here are some tips that will help...
Before your first use, it is recommended to do a Deep Cleaning of the barbecue with a rough pipe cleaner or wire to rid of any rust, dirt, spider webs and any other build up debris that may have been collected during the time kept in storage.
A thorough Check of the barbecue's hose, tanks and burners should also be conducted when first setting it up for the season. Any damage or cracking found on any parts of the barbecue should be removed and replaced.
It is also recommended to Test out your Barbecue at the start of each season. Any leaks in your barbecue can be easily found if a 50/50 solution of water and dish soap is applied to the propane's cylinder connections and hoses. If any bubbles appear this indicates a leak and the propane tank's connection should be tightened or replaced if more damage is visible. Never use matches, lighters or any lit flame to check for leaks, this poses as a severe hazard.
Along with the barbecue preparation steps, some barbecue "Do's and Don'ts to keep in mind for summertime barbecue safety are:
● Barbecues should never be left unattended when in use
● When operating your barbecue, it is best to keep away all loose clothing and have pets and children away at a safe distance away from the barbecue.
● The area surrounding your barbecue should be kept clean and free of any combustible or flammable materials, as well your barbecue should be distanced from any wooden fences or walls.
● Built-up grease should also be removed from the burner and base of the barbecue, as it could cause a grease fire. (In case of a grease fire occurs, water should not be thrown onto the fire as it only spreads the flame further. A fire extinguisher should be used in this scenario)
● Any spare propane cylinders should never be stored near a barbecue or around any sources of heat or open flame. It is recommended they are to be stored in a safe space away from any heat sources.
Enjoy barbecuing this season with these tips to ensure your safety this summer.
Budget Propane supplies the world's most eco-friendly gas to your home or office on demand. Call 1 888 405.7777 to have Budget Propane install tanks and lines, place remote tank monitors, or provide technical support for your home, business, or contracting job. We deliver throughout central Ontario; Huntsville, Bracebridge, Haliburton, Muskoka, Bala, Midland, Orillia, ... and more! Visit us online at www.budgetpropaneontario.com