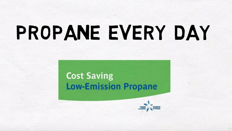 More than just BBQs! This short animation by the Canadian Propane Association shows some of the many ways that propane is used in Canada every day.
From home heating to agriculture, from industry to transportation, propane is a low-emission energy solution that is abundantly available in every corner of the country.


This video does a great job showing the versatility of propane! Here's an overview of some of the amazing propane uses covered in this short animation:
At your Home & Cottage, propane is a vital energy source for heating the air and water. It can power appliances like a dryer and cook top, or an oven and fridge. It can also fuel a generator for when a big storm hits and knocks out power.


On the farm, propane is used to heat poultry barns and greenhouses, power farm equipment and for chemical free weed and pest control.


At work, propane is essential for keeping workers warm with portable and permanent heaters at construction sites, warehouses, factories and mines.


On the road, propane is a low emission, cost-saving fuel. Propane school and transit buses are quieter and cleaner and fleet vehicles such as police vehicles and courier buses use propane to lower fuel and maintenance costs and greenhouse gas emissions.
And did you know … your last taxi ride was probably a propane-powered trip. Propane can even power hot air balloons and Zambonis! Propane is efficient, affordable, low emission and available now.
Contact us today for more information about the vast uses for propane or for your free propane quote!


We Deliver Quality Propane and Provide Friendly Customer Service Throughout Central Ontario!
Budget Propane Ontario supplies bulk propane to residential, commercial, and construction sites in central Ontario. Call us to discuss your needs and to learn about the benefits of using propane. 1 888 405.7777.