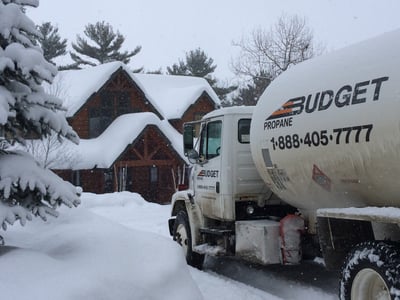 With the increased fluctuation of hydro prices, especially for those living in rural areas, it is no surprise that folks are choosing to make the switch to propane. There are quite a few people who have never had a home with appliances that run on propane before, and, therefore, may not be sure how to go about deliveries or other operational tasks.
Then there are people who are buying or renting homes who are in the same boat. They have a propane tank on their property and know that the majority (or all) of their appliances run on propane, but where do they go from there? What information should they collect from the previous home owner, realtor or landlord before they move in?
Let us help by guiding you in the right direction to using propane in your home for the first time with these tips.
Renters:
For those of you who are renting a home or cottage that is powered by propane, there are a few things you should ask you landlord about regarding propane.
First and foremost, ask your landlord for the propane service provider that they use and their contact information. If utilities are not included, be sure to ask how billing works and the usage of the appliances. Double check with the propane provider by asking them about propane usage, how it works, and an average of old bills that your new home accumulated in past months.
Home Buyers:
Buying a new home is always exciting, it doesn't matter if it's your first home or fifth. When buying a new home though, you need to acknowledge characteristics of the home that you may not be familiar with, such as propane powered appliances and fixtures. Be sure to ask the realtor a few important questions before moving in.
It is important to know the specs of the propane tank that is on the property when you move in, such as the age of the tank and who the propane provider is. It is crucial to know the age the tank because after quite a few years the age and condition of the tank can compromise the functionality of the tank. If the tank has reached its full life expectancy, then the tank will need to be replaced.
Knowing the propane provider is needed for refills or to cancel their services in case you choose a different company.
Upon their first propane delivery, it is important to inform your propane provider of a few characteristics on your property, including:
The location of your septic tank – the propane trucks are quite heavy, even for the concrete platform covering your septic tank. Let your propane provider know of its location so they are able to avoid it as best as possible.

The location of your sprinkler system – Sprinkler systems are not cheap, so the last thing you want is for it to get damaged because it was out of sight which caused the driver not to see it.

Any low hanging power lines – If a driver does a delivery during a storm or in the dark they need to be informed of any low hanging wires so they can avoid them at all cost. The last thing we want is to cause a power outage in your neighbourhood
If you have any other questions regarding propane, please visit our FAQ section on the Budget Propane website, or contact us. We would love to help with any questions or queries you may have.
Budget Propane supplies the world's most eco-friendly gas to your home or office on demand. Call 1 888 405.7777 to have Budget Propane install tanks and lines, place remote tank monitors, or provide technical support for your home, business, or contracting job. We deliver throughout central Ontario; Huntsville, Bracebridge, Haliburton, Muskoka, Bala, Midland, Orillia, Barrie, Alliston... and more! Visit us online at www.budgetpropaneontario.com