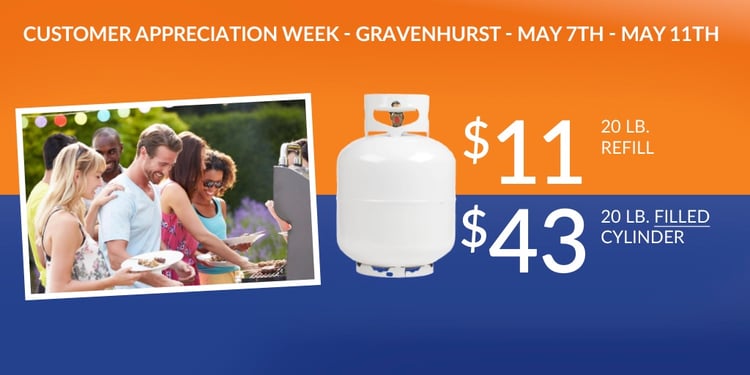 Next week is our annual Customer Appreciation Week at Budget Propane! This is our opportunity to thank all of our fantastic residential, commercial and building contractor propane clients for choosing Budget Propane Ontario as your propane supplier.
Just in time for the BBQ season, we bring you special pricing on propane - for next week only! We welcome customers, both long-standing and new, to stop by and take advantage of our special offer.
If you're a new customer, come and find out the numerous benefits of switching from oil or electricity to propane. Not only is propane more eco-friendly and safer for your family, it will also result in some significant cost savings.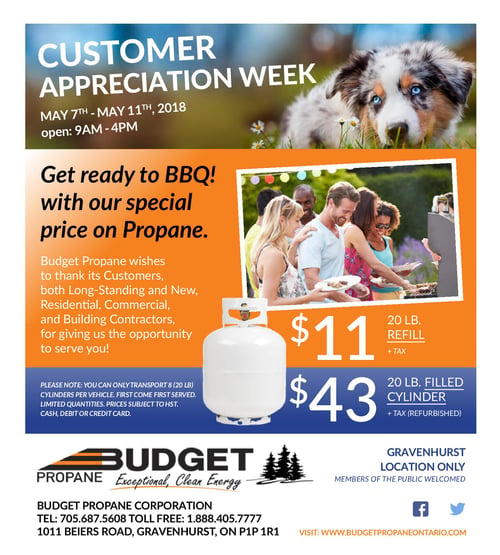 When?
The Customer Appreciation Week will be held over May 7 - May 11, 2018. Once the week has finished our propane prices will return to normal, so make sure you visit us and take advantage of our special offer.
Where?
The special offer will be held only in our Gravenhurst office between our opening hours of 9am and 4pm. You can find us at 1011 Beiers Road, Gravenhurst, ON, P1P 1R1.
What's the deal?
The special price on propane will include $11 for a 20lb refill or $43 for a 20lb filled cylinder. Please note that these prices are subject to HST and you can only transport eight 20lb cylinders per vehicle.
Budget Propane welcomes all community members to come by. If you'd like further information please contact us today.