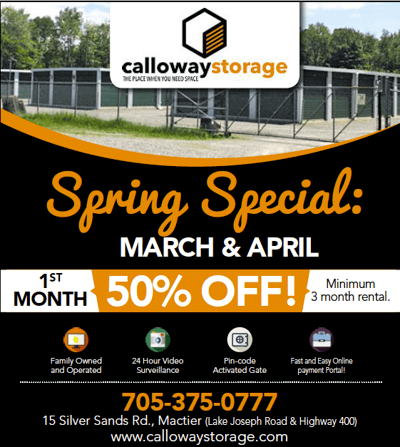 Budget Propane is a proud family owned and operated company that has been in the propane business for over 25 years. Our customers can attest to how customer oriented we are and how focused we are on customer satisfaction and providing safe and environmentally friendly propane services.
With all of this being said, you can trust that we operate in the same manner with our sister company, Calloway Storage.
Calloway Storage, like Budget Propane, is a local Muskoka company. Having opened in September 2016, they now have two locations, one in MacTier and the other in Minden.
They offer a variety of storage units, coming in all different sizes and prices. Having a storage unit is definitely the best option for those who are lacking space in their homes, businesses or are in the transition of a move.
For those who are currently looking for a storage unit in the Muskoka and Haliburton area, you are in luck! For the months of March and April, if you reserve a unit for a minimum of 3 months, you will receive the first month for 50% off!
Calling all Budget Propane customers! Are you in need of a storage unit? Contact Calloway Storage and learn about the special that they have available for you.
After working with the Calloway Storage family, you won't want to check out any other storage facility. You will already feel at home before you've even moved your belongings in.
Like you trust Budget Propane to always be there for you, trust Calloway Storage to store and protect your personal belongings. Their security includes 24-hour video surveillance of the fenced compound, as well as pin-code access to unit renters.
To learn more about Calloway Storage and the Spring Special that they have to offer this March and April, please feel free to contact them at any time.
Budget Propane supplies the world's most eco-friendly gas to your home or office on demand. Call 1 888 405.7777 to have Budget Propane install tanks and lines, place remote tank monitors, or provide technical support for your home, business, or contracting job. We deliver throughout central Ontario; Huntsville, Bracebridge, Haliburton, Muskoka, Bala, Midland, Orillia, Barrie, Alliston... and more! Visit us online at www.budgetpropaneontario.com