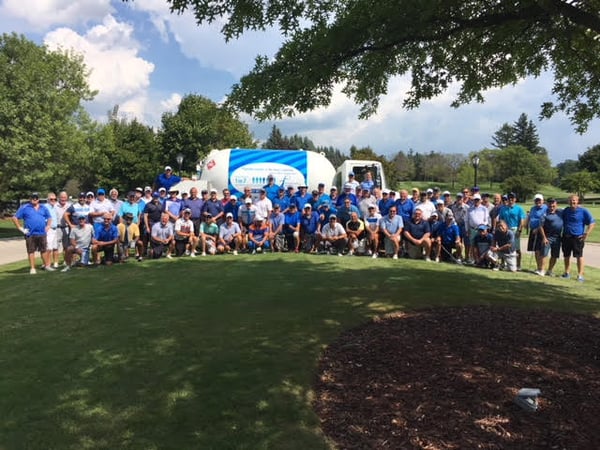 Budget Propane Ontario is a long-standing supporter of Prostate Cancer Canada, and has continued its commitment to raise awareness and funds for the organization with the Budget Propane annual 2018 golf tournament, held at King's Riding Golf Course.
The annual Prostate Cancer Canada Golf Tournament at Kings Riding Golf Club supports Prostate Cancer Canada's mission of eliminating the most common kind of cancer in men, through research, advocacy, education, support and awareness.
Everyone had a great time at the golf tournament, and, through those in attendance, Budget Propane was able to raise $5,000 for a great cause.
In a letter to Budget Propane Ontario, Prostate Cancer Canada said: "Your donation to Prostate Cancer Canada supports our drive to eradicate this disease. We appreciate your gift of $5,000.00 very much, and it will be used by researchers, wellness educators and support groups who are helping us find new treatments, educate men and their families and provide support to men who have been diagnosed and their loved ones."
Prostate Cancer Canada is looking forward to progress over the next year, as it develops and implements new initiatives in health promotion, education, research and support services for men and their families dealing with the disease.
In the letter to Budget Propane, the organization added: "Thanks to you, awareness is spreading about the need for regular checkups, and men with prostate cancer are sharing their stories in support groups across the country."
Aside from the annual golf tournament that Budget Propane organizes, the company has also coordinated numerous other initiatives to support Prostate Cancer Canada. Some of these include the Budget Propane truck with blue ribbon signage and messaging, as well as taking part in the the Enbridge Ride to Conquer Cancer.
A history of Prostate Cancer Canada
Ron Evason founded Prostate Cancer Canada in 1994. After being diagnosed with prostate cancer in 1993, he realized that there was little, if any, high caliber research being done for the disease.
The Foundation's mission was to support research into the cause, cure, and prevention of prostate cancer. The disease is the most common cancer in men, with around one in seven Canadian men being diagnosed with it during their lifetime.
24 years on, the organization's vision is to be a global leader in the fight against prostate cancer, earning the enthusiasm and support of Canadians through integrity, compassion, and innovation.
Want to learn more about Budget Propane's initiatives and how we support Prostate Cancer Canada? Contact us today.