Propane offers numerous benefits to both consumers and commercial users. Not only is it a exceptional energy source, it's clean and non-toxic to the environment. It is also one of the most versatile fuels on the market and is abundantly available in Canada, being used for residential, industrial, construction, commercial, farm and recreational applications.
Save Money on Energy
Propane cost much less than electricity and oil. So far in 2017, propane costs have been 49% to 67% lower than oil and 156% to 204% less than electric resistant heat. Combine this with the fact that propane appliances are significantly more energy-efficient than electric or oil appliances, and you are sure to see a significant reduction in your monthly energy bill.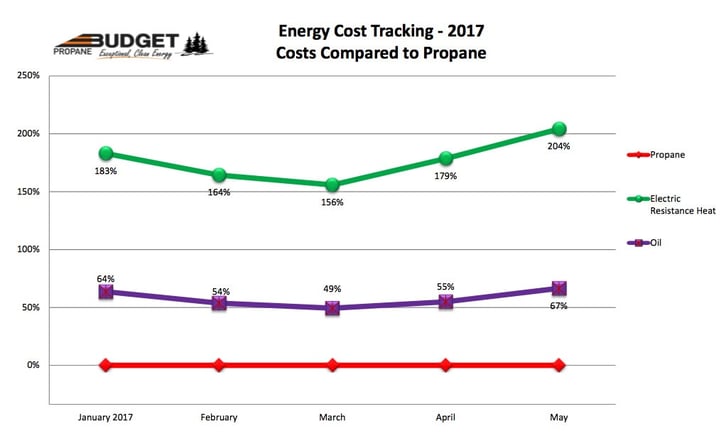 Oil furnaces typically produce heat at about 60% efficiency, meaning that for every dollar you spend on heating oil, you'll only get about 60 cents worth of heat. Propane gas furnaces, on the other hand, are much more efficient, with ratings typically 90% or above.
Appliances and furnaces that run on propane also have a longer life span, making them a more efficient, long-term choice. When compared to electrical heating systems, propane powered heaters are much better equipped to provide higher, more stable temperatures.
They also tend to be more energy-efficient than electrical heat pumps in real-world scenarios, with efficiency ratings between 70 and 96 percent. Propane heaters are also less expensive to repair than other types of heaters. When you factor this into the above information, as well as the low cost of installing and maintaining your propane heating equipment and the average lifespan of the equipment, propane proves to be the less expensive option.
Environmentally Friendly Propane
From an environmental perspective, propane can also substantially reduce your carbon footprint. Electricity is a secondary energy source, which means it is generated by a primary energy source. This primary source could be the burning of coal, burning of fossil fuels, nuclear power and more.
While there are eco-friendlier ways of producing electricity, such as wind power and solar power, they aren't as commonly used as the sources non-environmentally friendly sources.
Propane, on the other hand, is one of the cleanest and versatile fuels available. It isn't toxic and, when released into the air, it does not release carbon dioxide or act as a Greenhouse Gas.
Propane is released as a gas, which means is doesn't spill, pool or leave residue. In the unlikely event of a tank leak, propane won't harm the air, soil or water. Propane has also been approved as an alternative fuel by the US Environmental Protection Agency (EPA).
So, if you are looking for the best energy source to save you money and reduce your impact on the environment, take a look at propane!
If you are a resident of Central Ontario who is ready to start taking advantage of the benefits of using propane to power your appliances and heat your home, get in touch with a member of the Budget Propane's team. Call 1 888 405.7777 to learn more about propane's versatility as a fuel or to enquire about our delivery options and other services.