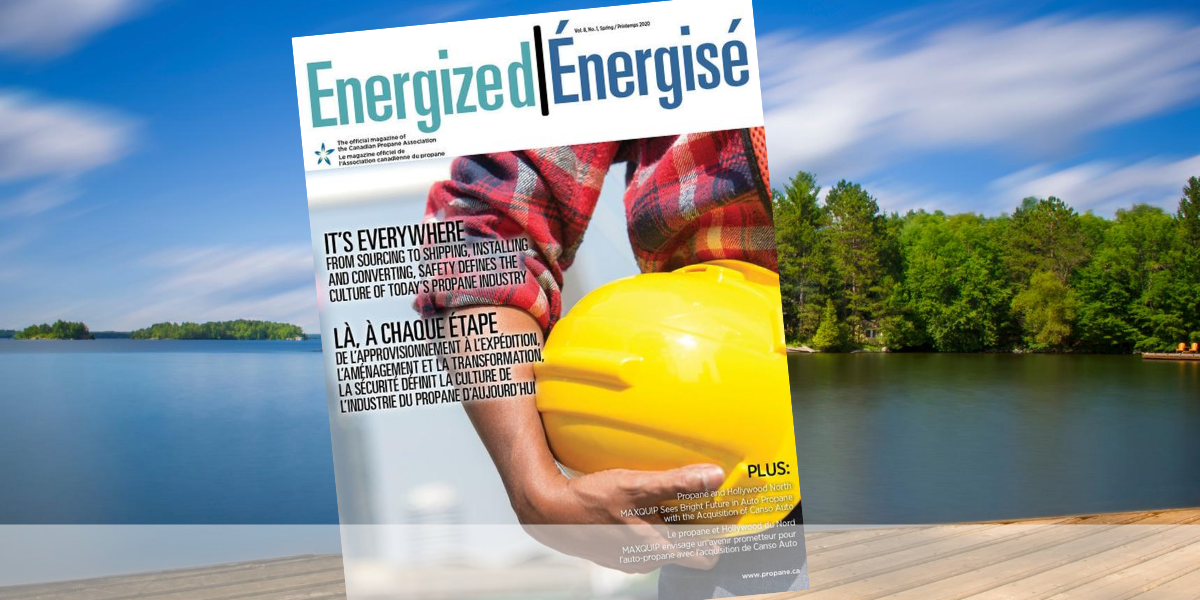 The spring edition of Energized, the official magazine of the Canadian Propane Association (CPA) contains an interesting article by Helen Murphy, "It's Everywhere - From Sourcing to Shipping, Installing and Converting, Safety Defines the Culture of Today's Propane Industry.
I was pleased to speak with Helen about the topic and would like to share the article with you.
Here is an excerpt:
Source: full article link
"THERE'S A REASON why propane is widely regarded as a very safe fuel, and it's not just about its composition. The reputation stems primarily from the culture of safety that permeates all aspects of the industry. Adherence to strict codes, ongoing training and information sharing are all part of daily life in the sourcing, transferring, transporting and burning of propane...
Although there is a cost to adhere to strict safety codes, Canadian Propane Association (CPA) members say the highly regulated environment within which they work is good for business.
"Every year there are more codes and standards," says James Callow, president of Budget Propane in Gravenhurst, Ontario. "And that gives confidence to customers and the public."
Training is provided both through colleges and from employers themselves. Gas technician training, for example, typically happens at a college or institute over one or two years, plus co-op training.
Instruction on the safe handling of propane and propane-powered equipment is achieved through CPA's Propane Training Institute (PTI). Many employers have a PTI-qualified trainer on staff, allowing them to provide this training in-house. PTI offers different training modules for the many different propane uses. Courses targeted to the construction industry, for example, range from filling forklift cylinders to cylinder exchanges and maintaining construction heaters.
At Budget Propane, Callow has nurtured a strong culture of employee and fleet safety. The CPA recognized the company's safety efforts with its 2018 Health and Safety Award. The award is given to leading initiatives by companies or individuals that promote, support, and enhance a healthy and safe workplace environment."
With over 30 bilingual propane courses the CPA's training institute certifies over 30,000 students annually on propane safety.
Interested in learning more about propane, or simply want to enquire about becoming a Budget Propane customer? Contact our team of experts today for more information.