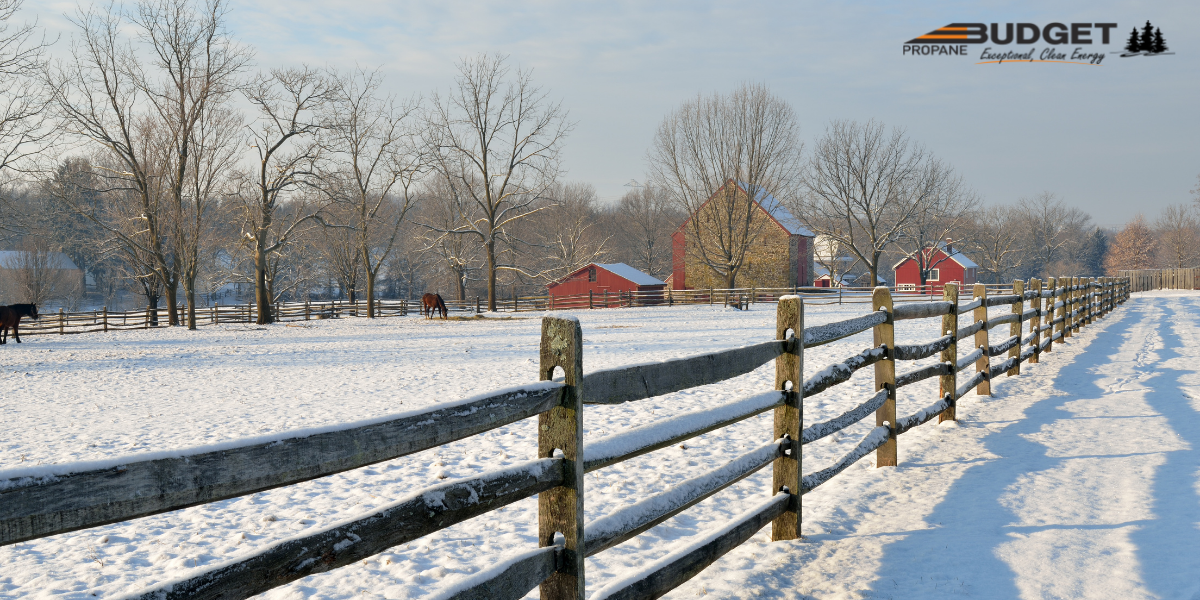 Propane plays a major role in food production in Canada by providing an energy source that helps reduce the ecological footprint of agriculture. Did you know that clean-burning propane helps sterilize milk equipment, dry crops, warm chicken coops, remove weeds, irrigate crops and power tractors? With such a versatile energy source, more and more agricultural businesses are powered by propane.
The Canadian Propane Association lists many of the benefits of using propane in farming operations, including:
protection of the environment - propane produces fewer emissions compared with gasoline or diesel. Propane in open air produces a vapour that does't contaminate soil, air or water sources, unlike liquid fuels, especially important in sensitive areas such as crop producing farms.
reliable energy - propane is a direct source of energy, so farms are not affected by interruptions in the electrical grid.
long-lasting - propane can be stored for up to 30 years
Let's look at specific areas where propane helps in agricultural facilities.
Cereal, Dairy, Greenhouse and Livestock Production Equipment
information source: The Canadian Propane Association
Propane provides clean and efficient energy for grain, diary, greenhouse, and livestock equipment. Since propane doesn't degrade over time there is no need to drain tanks or stabilize fuel, season to season.
Farm buildings that need to be heated to store or grow crops, or support livestock can rely on propane heating. Greenhouse temperatures can be precisely controlled and unit heaters or radiators can be wall mounted or hung to provide local heating. Propane heaters are available in a wide range of capacities and wattages. These units are more efficient than central heating as heat can be supplied only in areas that need it.
More than 80% of grain dryers run on propane, allowing precise heat control to ensure uniform drying. High efficiency propane dryers have low maintenance costs and a long lifespan. They limit fungi and bacterial grown and burn extremely cleanly so they never contaminate grain.
In addition to grain drying, propane powered dryers are used to dry oilseeds, sunflowers, nuts, vegetables and fruit.
Propane water heaters are used for building sanitation, cleaning and disinfecting equipment and more. They are more compact than electric water heaters and are more efficient. A 100 gallon propane water heater will produce the same amount of hot water as a 125 gallon electric unit.
Agricultural irrigation pumps powered by a propane engine are more efficient and more environmentally friendly. They are also less expensive. Estimates show that farmers using propane to fuel their irrigation pumps save 50% over diesel.
Propane generators are also widely used in agricultural businesses. Propane can be the primary source or uses as a back-up to prevent interruptions in the operation of farm buildings when electrical grid power outages occur.
Farm vehicles are also run on propane: propane vans, trucks and light vehicles.
If you are in the agricultural sector in central Ontario, operating a farm, greenhouse or horticultural operation, and are interested in switching to propane or using propane in new applications at your facility - give us a call 1-888-405-7777.
We supply bulk propane for agricultural and other commercial businesses across the region. Contact us for a no obligation quote.