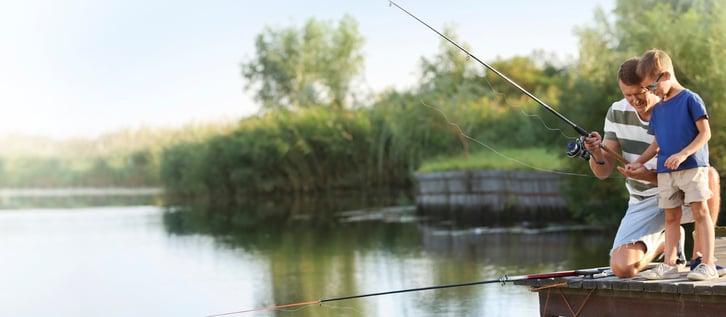 As parents, we want to ensure our kids are safe at all times. Sometimes as with younger children, this means keeping an eye on them and ensuring a safe environment. Other times it means establishing rules and educating them about potential hazards and what to do if they spot an unsafe situation.
Many homes and cottages across Ontario are already using or thinking of switching to propane. It is regarded as a safe, efficient, and clean burning fuel to use for a variety of applications both indoors and outdoors.
In the summer, while enjoying outdoor activities such as BBQs and camping, propane becomes even more popular. At the very least, we need to ensure our children stay safe around propane equipment - and at the most we can educate more sets of eyes and ears to help make safety a priority when it comes to propane.
For Babies & Toddlers
At this age, all they want to do is get their hands on everything. They will crawl out of sight quickly and grab anything that looks remotely interesting. Once they are mobile - there is no stopping them! They are clever and curious and will do whatever it takes to get to what they want, often unwittingly putting themselves or others in danger.
To make sure your babies and toddlers stay safe, keep a close eye on them when around propane equipment. If you can, create barricades around equipment such as BBQ's (especially when in use), and propane tanks. Make sure that you never store propane indoors, only store outdoors in well ventilated areas.
For Older Children
Once children are able to understand rules and logic, you can start to educate them about what propane is, what it's used for, and how to stay safe around it. Propane tanks may look like a fun thing to climb and play on, but it's important to tell your children that they are to give propane equipment plenty of space. You can explain to them that propane is a tool for adults to use and is not a toy, and enlist them into helping keep everyone safe. Teach them what propane smells like, and what to do if they smell propane (immediately find an adult!). You can also teach them to tell an adult when they suspect something is unsafe, like if they find propane being stored inside a house. If you give children even a small amount of responsibility, you will be surprised at how seriously they will take this task.
For Pre-teens & Teenagers
With teens, education is even more important. They will potentially want to be involved in helping to barbeque at the family picnic, and so teaching them how to handle propane in a safe manner is important. Many teens will be curious and may want to experiment with fire and fuel, so it's important to educate all children and teens about the importance of fire safety, and how to use propane for its intended purpose.
We all want to keep our families safe, and though propane is considered a very safe & non-toxic fuel alternative - it can be dangerous if not handled properly and with respect. Educating children about how to stay safe around propane is an important task, and if you need further help or resources please do not hesitate to contact us.