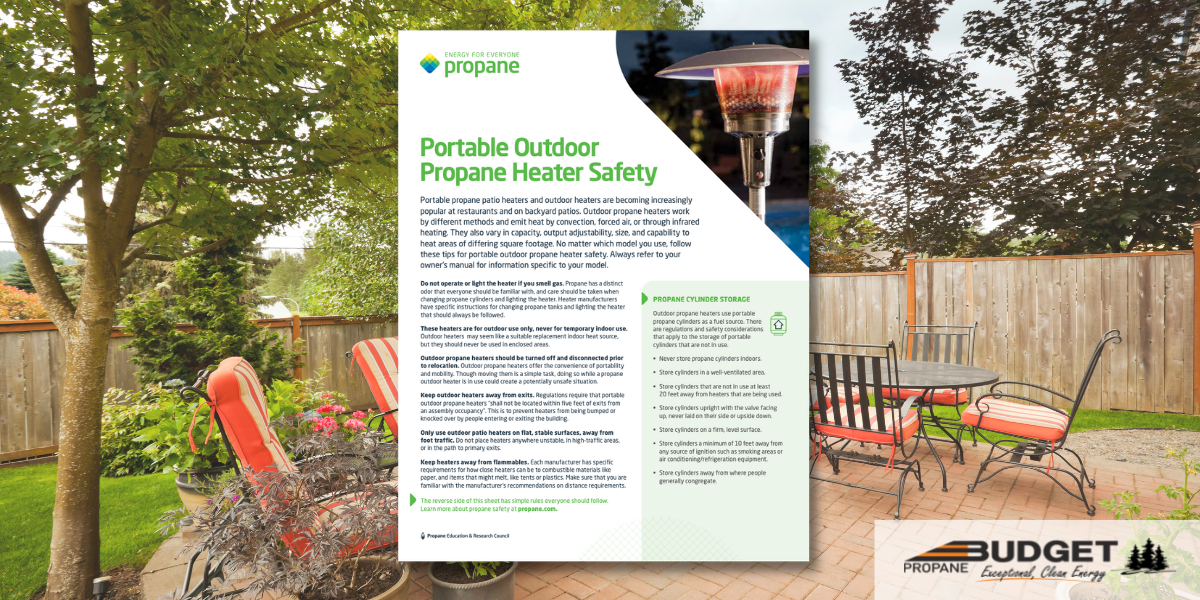 As the weather starts to cool down, and more people want to extend their time outdoors before the winter sets in - patio heaters are becoming increasingly popular. Many restaurants created outdoor dining spaces during the pandemic, and these patios continue to welcome people who may not want to eat indoors yet. Portable propane patio heaters are a great way to keep family, friends or guests comfortable and warm.
The Propane Education & Research Council has put together propane safety information for the safe operation of portable propane heaters. Here are 5 important safety tips to follow, and remember to also consult the manufacturer's guidance for your type of propane heater and model as well.
#1 - Do not operate or light the heater if you smell gas.
Propane has a distinct odor that everyone should be familiar with, and care should be taken when changing propane cylinders and lighting the heater. Heater manufacturers have specific instructions for changing propane tanks and lighting the heater that should always be followed.
#2 - These heaters are for outdoor use only, never for temporary indoor use.
Outdoor heaters may seem like a suitable replacement indoor heat source, but they should never be used in enclosed areas.
#3 - Outdoor propane heaters should be turned off and disconnected prior to relocation.
Outdoor propane heaters offer the convenience of portability and mobility. Though moving them is a simple task, doing so while a propane outdoor heater is in use could create a potentially unsafe situation.
#4 - Keep outdoor heaters away from exits.
Regulations require that portable outdoor propane heaters "shall not be located within five feet of exits from an assembly occupancy". This is to prevent heaters from being bumped or knocked over by people entering or exiting the building.
#5 - Only use outdoor patio heaters on flat, stable surfaces, away from foot traffic.
Do not place heaters anywhere unstable, in high-traffic areas, or in the path to primary exits.
#6 - Keep heaters away from flammables.
Each manufacturer has specific requirements for how close heaters can be to combustible materials like paper, and items that might melt, like tents or plastics. Make sure that you are familiar with the manufacturer's recommendations on distance requirements.
Source: The Propane Education & Research Council
👉 Download a copy of the Portable Outdoor Propane Safety.
Interested in learning more about propane and the services that Budget Propane offers throughout central Ontario? Get in touch with us today. We'd be pleased to speak with you about becoming a Budget Propane customer.