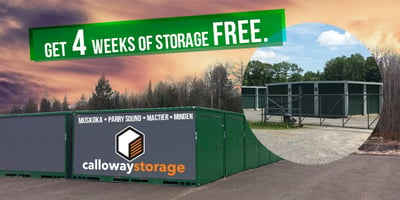 As most of you are aware, our sister company Calloway Storage has a location in MacTier Ontario and offers portable storage units all across the Muskoka region, Haliburton and more.
We'd like to congratulate them on opening their second location in Minden – where they offer more on-site storage units, as well as portable storage pods and solutions.
Portable storage units come in quite handy for seasonal storage (cottages and toys), moving homes or cottages, your business, and more!
As we are all moving into the Holiday season, Calloway Storage is offering the first 4 weeks of any storage unit rental for FREE! This special is available to the public, but only until December 31st, 2017 - no minimum commitment required.
For Budget Propane customers ONLY, Calloway Storage is offering this special savings until January 31st, 2018.
If you're in need of a storage locker or could use a mobile, portable storage unit for any of your storage needs, now is the time to solve your storage problem. Take advantage of this promotion and put your seasonal belongs, furniture, books, kid's toys, sports equipment, and other items in a safe and secure facility.
Storage units are being rented quite quickly, so contact Calloway Storage today for availability, and to secure this special offer!
For more information about our Automatic Deliver Program or if you have any questions about our other delivery services or products call Budget Propane Ontario at 1 888 405.7777 . We offer affordable propane solutions for home, business, and industrial use and Smart Tank remote-monitoring technology to save you time and money.