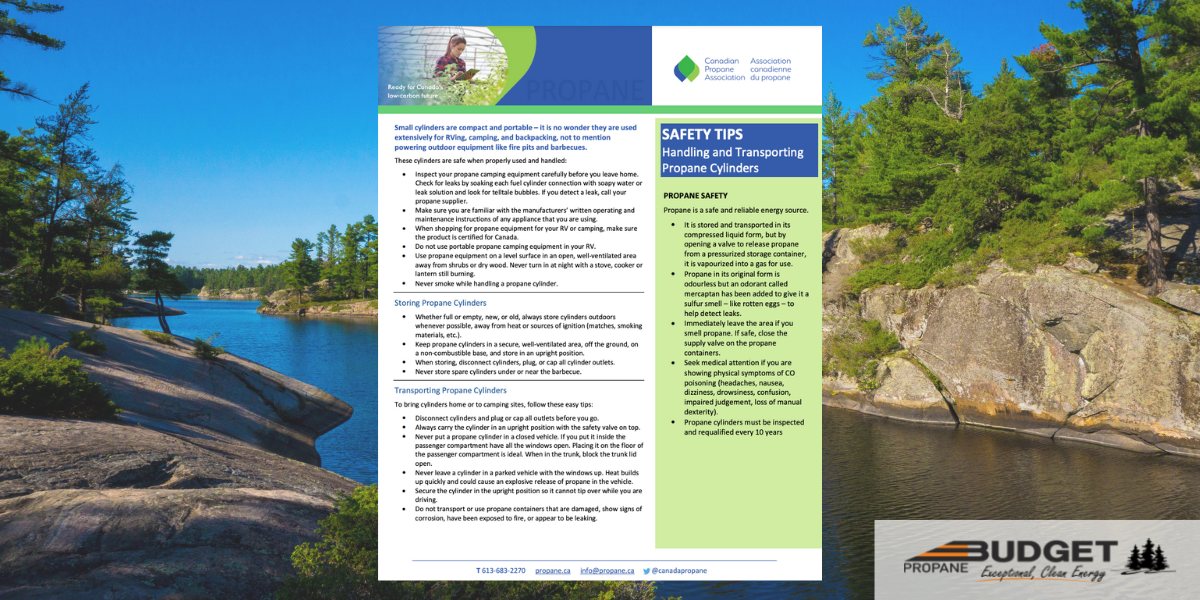 Small propane cylinders are portable and provide convenient heat for camping, backpacking, fire pits and barbecues. In fact for many people in Ontario, cooking outside on propane is synonymous with enjoying the spring and summer.
It's important when using a portable propane cylinder that you are aware of the proper techniques and requirements for transportation, store, and handling.
The Canadian Propane Association has put together a Fact Sheet that describes what you need to know to safely use small propane cylinders. Download a copy here.
Here is an overview from their website:
"Small propane cylinders are safe when properly used and handled:
Inspect your propane camping equipment carefully before you leave home. Check for leaks by soaking each fuel cylinder connection with soapy water or leak solution and look for telltale bubbles. If you detect a leak, call your propane supplier.
Make sure you are familiar with the manufacturers' written operating and maintenance instructions of any appliance that you are using.
When shopping for propane equipment for your RV or camping, make sure the product is certified for Canada.
Do not use portable propane camping equipment in your RV.
Use propane equipment on a level surface in an open, well-ventilated area away from shrubs or dry wood. Never turn in at night with a stove, cooker or lantern still burning.
Never smoke while handling a propane cylinder.
Storing Propane Cylinders
Whether full or empty, new, or old, always store cylinders outdoors whenever possible, away from heat or sources of ignition (matches, smoking materials, etc.).
Keep propane cylinders in a secure, well-ventilated area, off the ground, on a non-combustible base, and store in an upright position.
When storing, disconnect cylinders, plug, or cap all cylinder outlets.
Never store spare cylinders under or near the barbecue.
To bring cylinders home or to camping sites, follow these easy tips:
Disconnect cylinders and plug or cap all outlets before you go.

Always carry the cylinder in an upright position with the safety valve on top.

Never put a propane cylinder in a closed vehicle. If you put it inside the passenger compartment have all the windows open. Placing it on the floor of the passenger compartment is ideal. When in the trunk, block the trunk lid open.

Never leave a cylinder in a parked vehicle with the windows up. Heat builds up quickly and could cause an explosive release of propane in the vehicle.

Secure the cylinder in the upright position so it cannot tip over while you are driving.

Do not transport or use propane containers that are damaged, show signs of corrosion, have been exposed to fire, or appear to be leaking.
Reusable Propane Cylinders
Reusable five-pound cylinders are an eco-friendly alternative to one-pound cylinders for use in camping, barbecuing, heating, torching, and much more. We encourage Canadians to use five-pound cylinders for a few reasons:
The small one-pound cylinders are typically manufactured and filled from supplies outside of Canada. Although the five-pound cylinders may be slightly larger and heavier, you are supporting your local Canadian suppliers.

While handy, single-use cylinders cause collection and disposal issues for provincial parks and municipalities, whereas you can refill a five-pound cylinder at a propane refill location."



source: The Canadian Propane Association
If you have any questions about propane safety or would like to speak with Budget Propane about propane service to your central Ontario property, contact us.
Budget Propane supplies propane to residential homes, cottages, rural properties, construction sites, agricultural businesses, and commercial establishments throughout the central Ontario region. Get in touch for a no obligation quote.