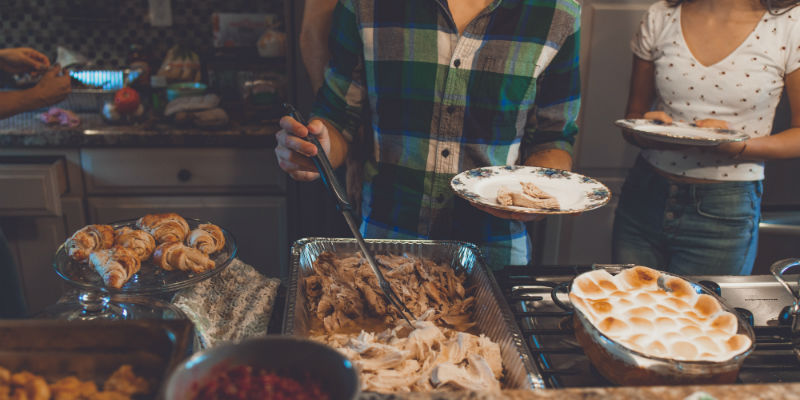 Thanksgiving is just around the corner and you've probably already visited your local butcher or grocery store to purchase your turkey, but have you planned how you are going to cook it?
The vast majority of people in Canada cook their Thanksgiving turkey by putting it into an oven, but you can unlock a world of culinary possibilities by using propane to cook your turkey this year on your outdoor grill.
One of the biggest complaints about any Thanksgiving feast is that the turkey is too dry to enjoy. If you use propane to cook, however, you'll have a few cooking options that keep your guests coming back for seconds and thirds.
One of the best, and most common of these methods is to grill your Thanksgiving turkey.
4 tips for grilling your Thanksgiving turkey with propane
By grilling your Thanksgiving turkey over a slow indirect heat, not only will you be able to serve up a delicious dinner, but you'll also benefit from freeing up your oven space. This will give you enough room to cook all those other goodies you plan to put on the plate, no matter how small your kitchen is.
If you're new to grilling a Thanksgiving turkey, however, you may not know where to start. Here are four tips:
1 - Fill up your propane tank
Your turkey is going to need a long time on your grill to fully cook, and that's what brings out all the flavours and gives it that perfect texture. To make sure your cooking appliance will last, it's essential that you ensure your propane tank is full before you decide to cook. There's nothing worse than half cooking your turkey and then running out of propane.
If you use a lot of propane in general, then it's always a good idea to get a propane tank monitor. This will alert your propane supplier when your propane levels are starting to get low, allowing them to come and automatically refill your tank to ensure you don't run out.
2 - Thaw and season your turkey
By slowly grilling your Thanksgiving turkey using propane heat, you'll be able to access new and complex flavours that you simply can't create from a simple oven cook. However, to get those flavours it's important that you properly thaw and season your turkey before cooking.
3 - Get the right size
A common error when buying a Thanksgiving turkey is purchasing one that simply doesn't fit your grill. This is important as it's essential for the cooking process that you are able to close the lid entirely.
Whether you plan on putting your turkey directly on the grill pan or place it inside a roasting pan, make sure that the turkey you buy is the right size to fit your chosen method of cooking. It's also important to know the size of the turkey before cooking it, as this will give a good indication of how long it will take.
4 - Use the temperature as your guide
The most accurate way of telling whether your Thanksgiving turkey is fully cooked is by using a thermometer to check its temperature. No matter if you are cooking your turkey in the oven or grilling it, the cooking time is around 15-20 minutes per pound and your turkey should be done when your thermometer reads 165°F.
If this doesn't sound quite right for you, remember, there are a variety of other ways you can cook your Thanksgiving turkey using propane. You can follow the Southern United States favourite way of cooking turkey by deep frying it, or you could even smoke it.
Some further tips for perfecting your Thanksgiving meal
Plan your grocery shop: Work out everything you need to buy beforehand, and then make a list for when you go to the grocery store. You don't want to wake up on the morning of your Thanksgiving meal to find out you haven't got some of the key ingredients you need.
Cook in advance: To relieve some of the stress of cooking on Thanksgiving day itself, you can do the large majority of your cooking in advance. Things such as vegetables, stuffing and dessert can all be made a day or two before and then reheated to reduce your workload.
Don't stress: The most important thing to remember is that Thanksgiving is about people, not food. While good food makes everything better, Thanksgiving is about spending quality time with your loved ones and remembering how lucky we are.
Are you looking for more a local propane supplier with excellent customer service? Contact us today.