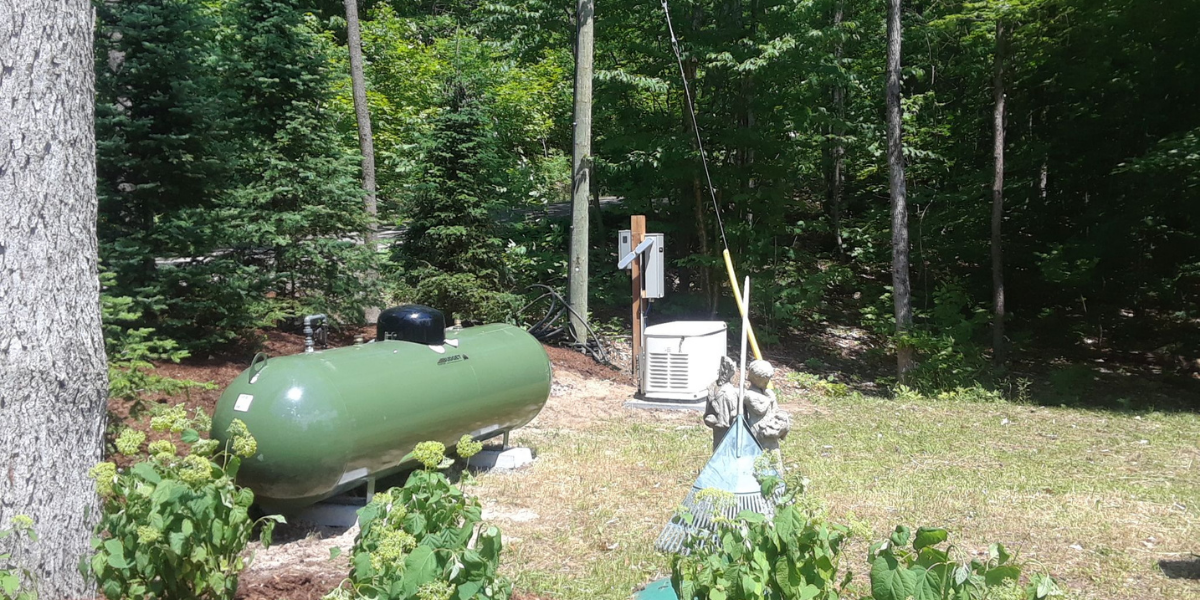 Are you updating a rural property and are planning to switch to propane energy from oil or electric heating? It makes sense. oil, once the most common heating source in the 1950s-60's was widely replaced by electric baseboard heating in the 1970's. Now, homeowners want HVAC systems that provide the latest control and comfort throughout the seasons and use environmentally friendly energy.
Rural properties that were previously only used for 3 seasons are now being used year-round and updating the heating system is essential. Properties in rural locations, lakeside cottages and small villages often do not have natural gas services and propane is the clean & green solution.
If you recently acquired a property with an old heating system or are ready to update the family seasonal cottage this year, you'll want to choose a propane supplier to go along with your newly installed propane furnace system.
Choosing which propane company to go with is important. Your propane supplier is providing an essential service for years to come. Let's look at some of the key considerations when selecting the right propane company.
#1 - Are they cost effective?
Propane suppliers will offer a quote for your estimated requirements. But it's important to note that choosing your propane supplier based on the initial price alone may not be the most cost effective.
Since the price of propane can fluctuate daily and by location, and a supplier could soon mark their price up. Look at the price of propane, but also look at the other cots such as installation, termination charges and any minimum monthly purchase requirements.
#2 - What delivery options do they offer?
An important part of your service is delivery. Having a propane supplier that is flexible to your needs is important. Budget Propane Ontario, for example, offers a range of flexible delivery options to meet our customers' needs from timed delivery, automatic delivery, will call delivery and seasonal delivery.
#3 - Do they have high safety and regulatory standards?
Propane is a clean and safe source of energy but like any energy it needs to be handled and used properly. It's important that you're aware that your propane supplier is upholding the highest safety and regulatory standards. Ask about the storage, transportation and handling procedures that any potential supplier has in place - they should be able to answer in great detail.
Budget Propane has many decades of experience in the propane industry and our safety procedures and knowledge of regulations are second to none.
#4 - Are they focused on customer service?
Large propane companies are focused on profits, not customers. Smaller, family-owned propane suppliers, however, put extra emphasis on service and customer satisfaction. Your propane supplier should be able to provide a high-quality service that's tailored to your individual needs.
The best propane suppliers will be willing to talk to you when you need assistance, so that you never have issues with your propane tank, your propane order or anything else related to your propane supply.
Budget Propane has been operating in central Ontario as a family-owned business since 1989. We live and work in the area and are really proud of our staff and how they relate to our customers. Check out our reviews...
#5 - Do they offer the latest technology automation?
If you want your propane supplier to go above-and-beyond to make your propane delivery a seamless experience, look for a supplier which offers automated delivery through tank monitor reading like we do, at Budget Propane.
Propane tank monitors will alert your supplier when your propane levels are at a custom set-point so that they can come and refill your propane tank, ensuring you never run short of propane. This makes the entire propane experience seamless.

Do you have any further questions about choosing the right propane supplier for your unique needs? Contact Budget Propane Ontario today. Our team of experts would love to answer any questions that you may have.