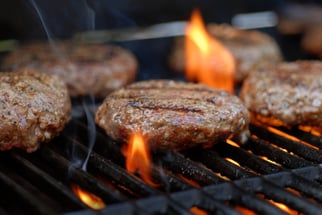 It's barbecue season! If you're like me, as soon as the warm weather hits, I start using my barbecue. Whether you're grilling at home or at the cottage, there are a few simple tips you can follow to ensure you and your family stay safe throughout the spring and summer months.
Since you're bringing your barbecue out after a long winter season, the first safety step you should follow is checking your propane tank for leaks.

This safety step is important if you haven't used your barbecue for an extended period of time, or if you replaced your cylinder.

Here are some ideas on how you can check for leaks:


Brush a commercial leak detector solution (or a mixture of 50% liquid soap and
50% water) onto all connections and valves. If rising bubbles appear, you have
a leak.
Close the service valve, tighten the leaking connection, and test again. If
bubbles continue, shut off the service valve and contact a qualified service
technician.
Never use matches or lighters to check for leaks.
Once you've checked for leaks, you can light the barbecue. Follow these steps to safely light and turn off your barbecue:
Always open the barbecue lid before lighting.
Use the service valve on the propane cylinder to turn on the gas supply. Next,
turn on the burner and immediately use the igniter switch.
When finished with the barbecue, turn off the service valve first to ensure
there's no propane left in the hose; then close the burner control valves.
Make sure the gas grill is shut off and has cooled completely before covering it.
In addition to these propane safety steps, there are some other important safety considerations you should take when storing and using your barbecue.
Always use and store your barbecue outdoors in an upright, secure and ventilated area.

Ensure your barbecue is a minimum of three metres away from sources of heat or ignition, windows and doors.

Make sure there are no obstructions to the flow of air around the grill.
Never use any type of accelerant on the grill. This includes lighterfluid and gasoline. In addition, you should never use propane with natural gas appliances unless the appliance has been modified by a qualified service technician.
Keep your children a safe distance away from the barbecue, both when it's in use and in storage.
Click here for some additional safety tips, and remember to leave repairs to professionals. If you suspect a leak or if an appliance is not working properly. Contact a qualified service technician immediately.
Budget Propane supplies propane fuel to homes and cottages throughout central Ontario for residential heating and appliances. If you are building in Haliburton or Muskoka, or elsewhere in central Ontario, call us about propane service to your new home. 1 888 405.7777