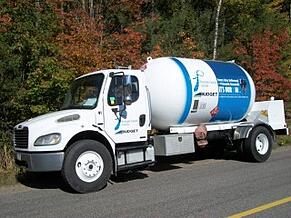 "Good morning. I just want to express my sincere appreciation and a big thank you to Ron who delivered propane this a.m. to 3248 Loon Lane just outside of Coldwater. It was a challenge for Ron to turn around that big truck and to get out of my"gently sloped" driveway with the added challenge of a tight turn. With the help of his shovel, sand, and a few buckets of ashes, he persevered and headed out - but he was in fine humour the entire time. THANK YOU!!! Ron is an employee you should be proud of. "
Regards, Brenda Moffatt
To learn more about the benefits of heating your home with propane, contact Budget Propane at 1 888 405.7777 . We're Ontario's choice supplier of propane gas tanks and provide excellent delivery and refill services. For more information on using propane at home or at work, call the propane experts at Budget Propane today or visit us online.