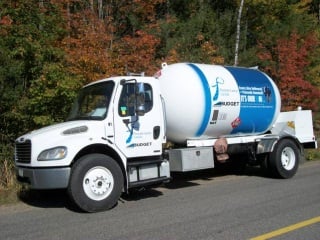 Although Canadians have been using propane for years for heating, grilling, and other applications, the global emphasis on clean fuels has reignited interest in making propane the fossil fuel of choice. But while you may have heard propane being an important alternative fuel, many Canadians don't know very much about what propane actually is or why it's so great. Let's take a closer look at both of these questions:
Propane is typically acquired as a byproduct of natural gas drilling. Natural gas (methane) makes up for about 90% of the material released from drilling. The remaining 10% includes a mixture of other gases, half of which is propane. Propane can also be found in crude oil. The propane is extracted as crude oil is refined to create gasoline, diesel, or jet fuel.
While all other fossil fuels have fallen out of favor, propane is often disassociated with other petroleum-based fuels because of its many advantages. First, propane is a very clean-burning fuel. It produces low greenhouse gas emissions, almost no soot, and very low levels of other pollutants such as carbon monoxide, hydrocarbons, and nitrogen oxides. It can also be easily stored under pressure, which prevents it from leaking into the atmosphere.

Propane is also a very affordable fuel, which makes it an excellent alternative to other increasingly expensive energy sources. Heating a home using propane can cost as much as 50% less than using electric heat. Propane-filled cars with specialized tanks also experience up to a 25% reduction in fuel costs. Additionally, household propane-fueled equipment like water heaters and furnaces are far less expensive than their electric counterparts.

To learn more about the many advantages of propane, contact Budget Propane Ontario in Gravenhurst. We're Ontario's #1 supplier of propane gas to central Ontario and can provide propane gas tanks or refills right to your door at home or at work. For more information, visit us online or call Budget Propane at 1 888 405.7777.