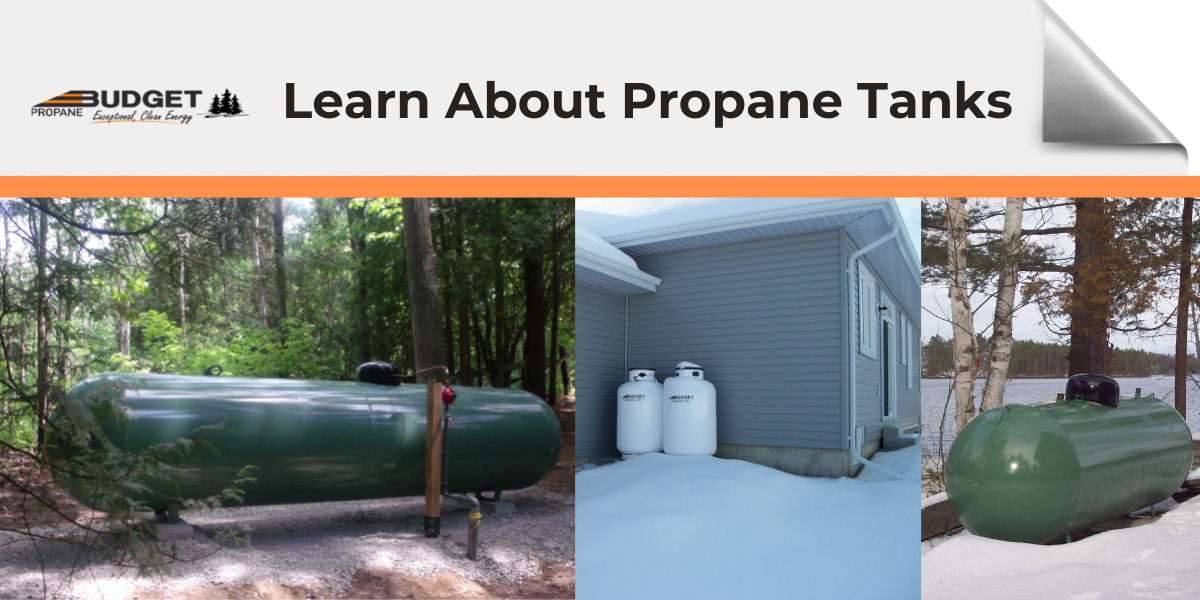 Propane tanks come in a variety of shapes and sizes, but here are two main types of propane tanks used for supplying home energy – horizontal torpedo tanks or vertical (up-right) tanks.
The capacity or size of the tank, and style of the tank, will depend on the estimated amount of propane usage for your needs. Factors include; your heating requirements through the winter, the size of your home, the number of propane appliances you have, the efficiency of your propane appliances.
Torpedo or Up-right?
Torpedo style horizontal tanks have a larger capacity and are generally used where propane is the main source of heat. The higher storage capacity helps reduce the need for winter deliveries and gives homeowners increased peace of mind that they have an adequate supply. Torpedo tanks from Budget Propane are available in green. Green tanks blend into landscaping or treed areas around your property.
Torpedo tanks 325 USWG and up to and including 1000 USWG follow a rule of 10s for installation locations; 10 ft from a property line, 10 ft from a building, and 10ft from an ignition source (e.g pool heater, generator). In addition, the tank must be accessible for re-filling, so there should be less than 100 feet distance between the torpedo propane tank and where the propane truck can safely park.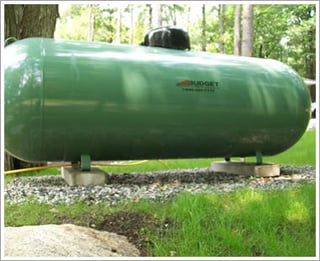 Vertical or up-right style propane cylinders are typically used for intermittent or reduced consumption loads. One benefit of a 420lb capacity up-right tank is that it can be placed right up to a building or near a property line. Most vertical tanks are white, however, you are welcome to use a light coloured, rust-proof paint on your tank to help it blend in with your home's exterior.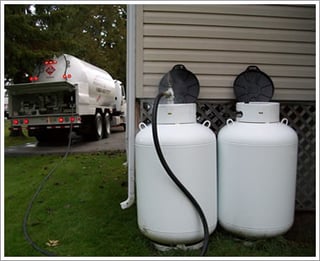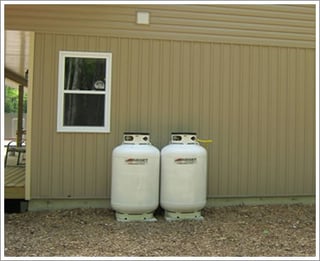 Our propane installation experts will help you determine the best location for your propane tank and the best sized tank for your needs.
Ontario propane installations fall under the Natural Gas and Propane Installation Code CAN/CSA B149.1. All Budget Propane installers are trained experts in this code, and the propane storage and handling requirements defined in CAN/CSA B149.2. We'll also ensure that your tank is regularly inspected and checked for compliance and safety. If you change your furnace or add more propane appliances, let your Budget Propane representative know so we can review your propane tank and conduct an inspection.
Contact customer care if you have any questions about propane tanks or if you would like more information about becoming a Budget Propane customer! Budget Propane Ontario is a quality gas supplier for Gravenhurst, Midland, Alliston, Barrie, Orillia, Haliburton and area. Visit us online to learn about our Smart Tank monitoring program and delivery information. You can also call us at 1 888 405.7777 to request a quote.