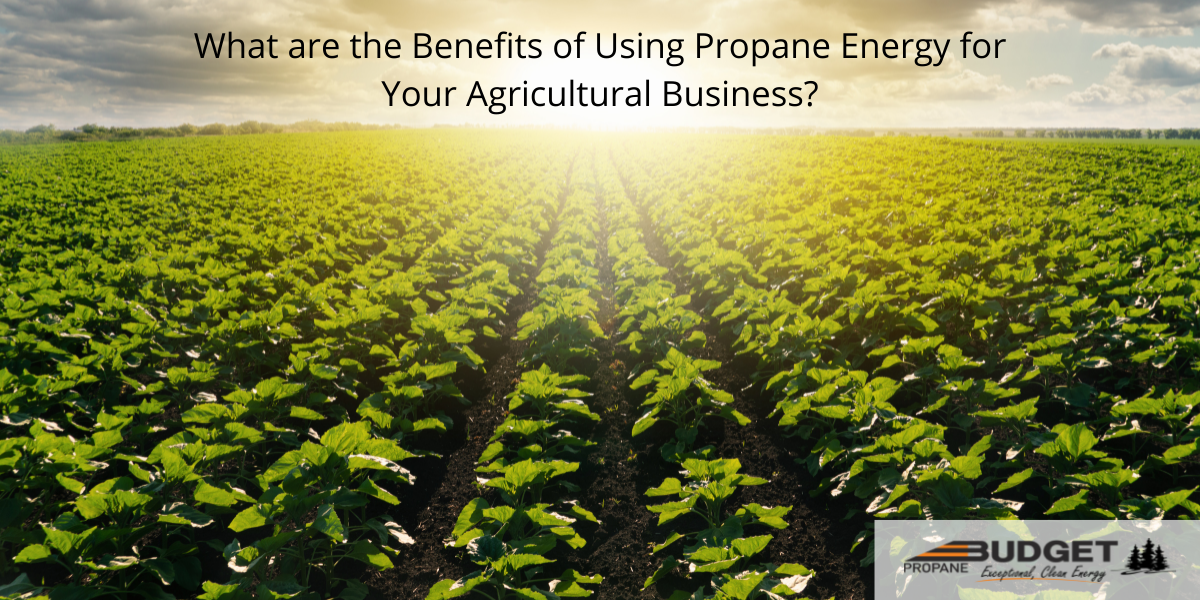 Spring is here, and it's a hectic season for farmers or anyone in the commercial agriculture sector. With costs for everything mounting it's essential you look at ways to improve your business processes, reduce costs and become more efficient.
Did you know that propane is a versatile, eco-friendly and cost-effective energy source that can help you optimize your operation? In fact, propane can be used for a large number of jobs on your farm, including:
Farm equipment fuel
Irrigation pumping
Livestock area and miscellaneous space heating
Water heating
Brooder house heating
Crop drying
Weed control
Pest control
Forklift fuel
Backup or stand-by generator power
Here's four ways that the use of propane can benefit your agriculture business.
1 - Cost reduction
Making the switch to propane can help your business see immediate cost savings.
Just like any other industry, farming is a business - that means cutting costs and maximizing return on investment (ROI) is essential. Propane is one of the most efficient and cost-effective energy sources on the market, and it can be used to power a wide range of appliances on your farm. Propane has historically provided lower cost and higher value than fuel oil.
2 - A highly versatile fuel
Propane is a highly valuable energy source for farmers, not least because of its versatility. Farmers focus on a variety of different work which requires different equipment, but whatever your needs propane has the ability to efficiently fuel a wide variety of farm equipment.
The Canadian Propane Association lists a few ways that propane can be used for increased efficiency on your farm.
Building and water heaters: A growing number of farmers are using propane-powered building heaters, including in greenhouses, barns and brooding sheds, as well as water heaters, in their operations.
Irrigation engines: Propane-powered irrigation engines are becoming more efficient all the time and can provide farmers with an immediate savings in fuel costs compared with diesel or gasoline.
Grain dryers: New propane-powered units are extremely efficient and distribute a very precise heat, ensuring the grain dries evenly and results in a high-quality yield.
Flame weed control: Propane-powered flame weed control is growing in popularity because it's an environmentally friendly alternative to herbicides and is equally effective.
Standby generators: Propane-powered standby generators provide farmers with an additional layer of security because propane does not degrade over time like gasoline or diesel.
3 - Become more environmentally friendly
Farmers depend on the earth to grow crops and continue to make a profit. As a result of that, it makes sense that your farm should strive to become an environmentally-friendly business. Propane can help you achieve that.
As a clean-burning fuel source with many air quality advantages, propane is classified as being a liquefied petroleum gas (LPG) - a combustible hydrocarbon fuel and is one of the lightest, simplest hydrocarbons in existence.
Unlike the burning of fossil fuels such as coal, natural gas, and nuclear, propane emits virtually no soot, as well as low carbon monoxide, hydrocarbons, and oxides of nitrogen. This means propane is significantly more environmentally-friendly than most other sources of energy.
This could even give you a competitive edge, with consumers now putting environmentally-friendly companies at the top of their preferred suppliers.
Ready to learn more about how propane can be used to power your farm and empower your business to become more efficient? Contact Budget Propane Ontario's team of experts today, we would be more than happy to help.