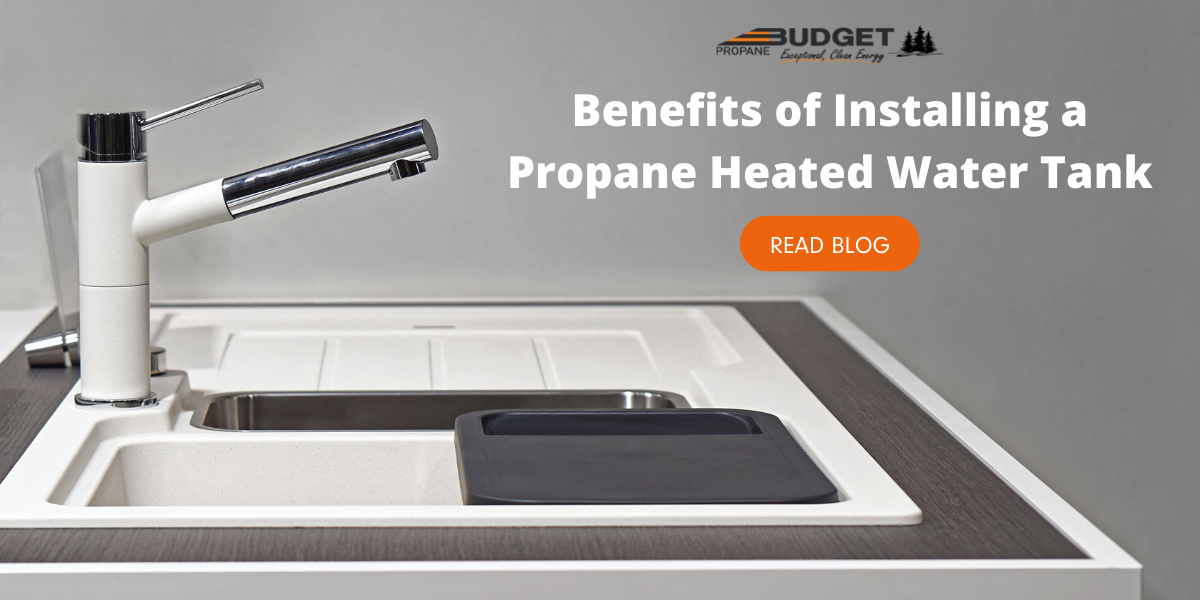 It's one of those household appliances that we don't think about too much, but your water tank is a behind the scenes workhorse. Hot on-demand water is routinely available in our day to day lives, and having it instantly ready for washing up, bathing, and washing clothes is essential.
But, with more and more households under financial pressure with increasing energy costs and general inflation, the operating efficiency of your water heater is key to reducing costs.
Did you know that water heaters account for a large portion of your home's energy bills? In fact, on average, a water heater accounts for 20 per cent of your home's total energy bill.
Let's look at some of the benefits of switching to a propane water tank.
Propane water heaters are an environmentally-friendly and cost-effective option for both your home or your cottage. Here are some of the benefits of installing a propane water heater over a conventional electric, oil or natural gas water tank.
You Can Save Money
Traditionally, propane is around 30 per cent less costly than electricity and around 25 per cent less costly than oil. Propane heaters are less expensive to repair and have have a longer lifespan than conventional water heaters, meaning the long-term cost savings can be significant. Not only will you see a month-on-month reduction on your energy bill, but you will also save on maintenance and replacements.
Improved Efficiency
Propane water heaters heat twice as much water in an hour than electric heaters. This means homeowners will be getting more hot water from a smaller sized tank, reducing the amount of energy it takes to both heat up and store your hot water. Propane furnaces are significantly more efficient than oil-fuelled furnaces, which run at around 60 per cent efficiency. Propane furnaces, on the other hand, typically have an energy rating of 90 per cent or higher.
Propane is Environmentally Friendly
Propane gas is made from the process of refining crude oil and natural gas, and since it's a light hydrocarbon it is one of the cleanest burning fossil fuels in the world. This means the installation of propane will offer a vast number of eco-benefits. It is an Environmental Protection Agency (EPA)-approved clean alternative fuel that offers lower greenhouse gas emissions than both oil and electricity water heating options. Propane is also non-toxic substance, meaning it does not damage the environment.
Convenience
Heaters fuelled by propane on average last around a decade longer than water heating pumps that are fuelled by electricity, meaning less worrying about maintenance and replacing your tank. It's also a highly portable fuel, which can be stored and transported without deteriorating over time. Not only that, but if your electricity is lost in an emergency situation your propane water heater will still work. Propane is a safe and reliable choice that will keep your water heated even when all your other household appliances have lost power.
As-Needed Options
Propane water heaters come in all forms, including tankless. Tankless propane water heaters are exceptional energy-efficient options, especially for rental or vacation properties. These water heaters work to heat water quickly and on an as-needed basis, therefore, when the property is vacant the water heater won't need to run.
We recommend that you speak with your local heating contractor for further recommendations as to which model would suit your situation.
Propane is cost-effective, safe and environmentally-friendly, and should be a serious consideration for any home or cottage owner looking to install a new water heater. Contact Budget Propane today to learn more about the benefit of installing a propane water heater.