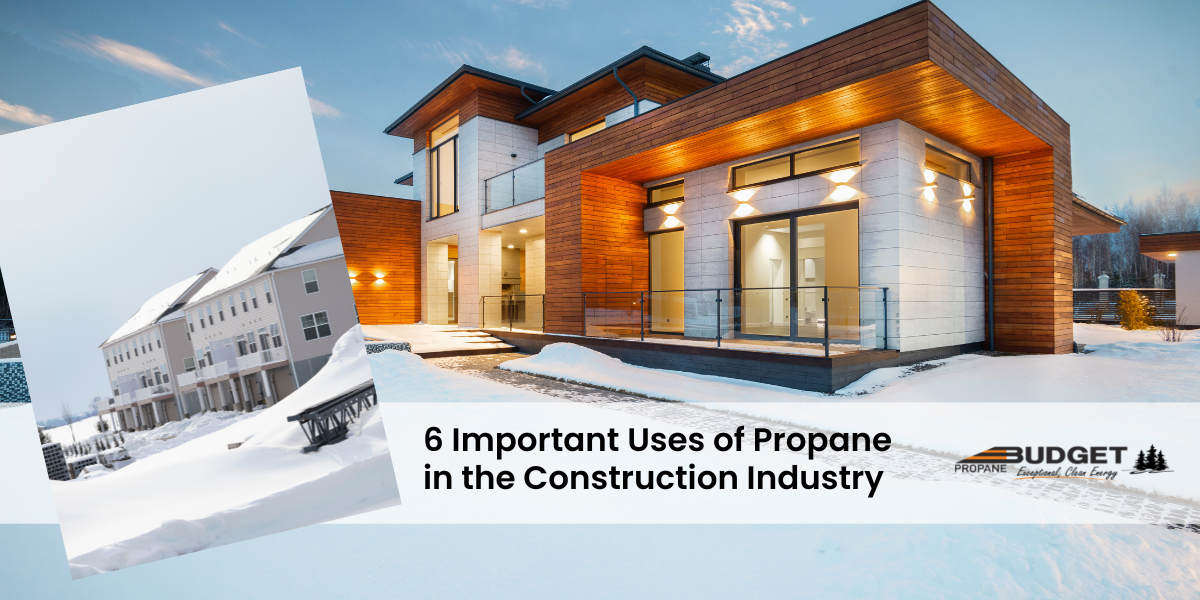 Propane is not just for residential heating and home appliances. It also is used in a wide range of commercial applications, from agriculture to transportation. Businesses across Canada take advantage of the economics of propane along with with energy efficiency and environmental benefits. One sector that benefits from utilizing propane energy is the construction industry.
What might come first to mind is construction heat. Many construction projects continue to go ahead in the winter and space heating is essential. But, propane is used in several other important applications. Here are six uses of propane in the construction sector provided by the Canadian Propane Association.
"1 - Heat: Propane is the ideal energy source to temporarily or permanently heat buildings on construction sites and distribution centres. Manufacturers and equipment rental companies offer a wide range of propane heaters for multiple applications in the field. They can be used to dry out a damaged building, heat different areas on a construction site or cure concrete. Several types of units are available with different power levels. Some units can even reach 1,500,000 BTUs.

2 - Generators: In construction and in distribution centres, access to an uninterrupted power source is critical to worker safety and the smooth operation of the job site. Propane generators, whether stationary or portable, are perfect for running electrical installations, tools, ventilation systems, electric heating, lighting, or any type of equipment requiring electrical power.

3 - Trucks, Vans, Cars: State-of-the-art auto propane technology means no compromise in performance, with the ability to match horsepower, torque and towing capacity of gasoline-powered equivalents.

4 - Elevating Lifts: There is a good reason why propane is the primary source of power for forklifts in Canadian warehouses and distribution centers.

They have been used and trusted by companies of all sizes for decades for their versatility, low acquisition and operating costs, and operational efficiency.

Propane-powered forklifts and tractors offer multiple benefits for farms, constructors, distribution centers and grain terminals.

5 - Torches: Propane torches and burners can be used for roofing work, melting tar and asphalt, repairing pavement, removing paint as well as melting snow and ice.

Propane produces a powerful and homogeneous flame that can release very high heat almost instantaneously. The intensity of the flame can be adjusted to adapt to any type of work. Propane torches and burners provide for autonomy and portability. They are easy to carry and handle while being able to operate continuously for many hours.

6 - Machinery & Equipment: Propane can be used as an energy source for many types of machinery in construction. Over the past 20 years, in construction and for the maintenance of hard surfaces (e.g., concrete), the use of polishers, sanders and saws has grown tremendously because they do a better job much faster than traditional machinery." [source: Propane For My Business, CPA]
Budget Propane has been supplying central Ontario's construction industry with bulk propane for decades. We offer a full range of professional propane services to meet your needs during new construction projects, whether you are a general contractor, sub-contractor, a builder or homeowner.

• Free Consultation
• Gas Piping
• All Tank Sizes Available
• Above and Below Ground Tank Installation Service
• Propane Appliance Installation, Sales & Service
• Temporary Heating
• Certified Service and Installation Technicians
Get in touch with us today!