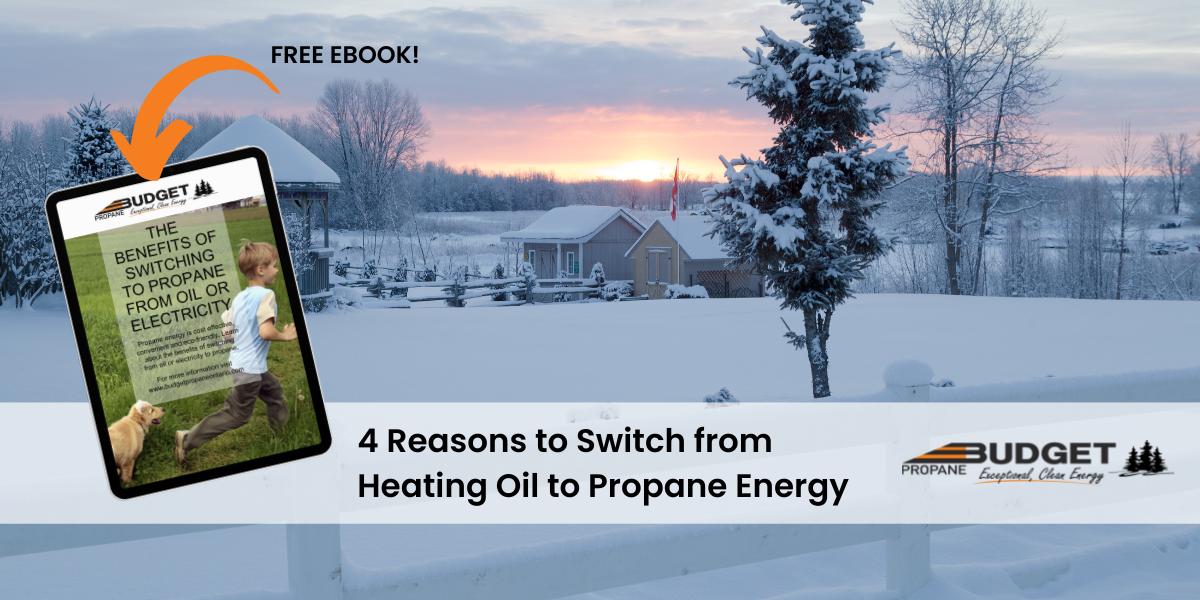 Many people know that propane fuels outdoor barbeques, but its use doesn't stop there. Propane is used in a variety of industries for multiple purposes, from fueling forklifts to controlling pests and weeds on farms without chemicals. In a residential setting, propane can fuel everything from fireplaces, furnaces, to water heaters and stainless steel appliances.
Whether you're outfitting a kitchen, a master suite bathroom, or a downstairs laundry room, you can put propane to work anywhere in a home. Running all of your appliances on the same fuel source as your furnace and water heater is a convenient and efficient option for your home and cottage. It can even fuel outdoor appliances, like pool and spa heaters, generators and portable patio heaters.
If you are still using fuel oil to heat your home or cottage, you might be surprised to learn about several benefits that propane brings as an alternative, and clean burning fuel. Winter heating in Canada can result in unpredictable heating costs, from one season to the next, so you want a fuel source that has an economic benefit to help with variable usage. So, what are the benefits to using propane?
Here are 4 reasons why we think you should consider switching from oil to propane.
1 - Better for the Environment:
Propane is a clean-burning, alternative energy source that has very little impact on the environment. Unlike oil, which can leak and cause severe environmental damage, propane is a gas that dissipates into the atmosphere and therefor cannot contaminate soil or water. Propane has a lower carbon footprint as well, producing nearly 40% fewer emissions than oil, with low carbon monoxide and hydrocarbon emissions. High efficiency propane furnaces emit 10,000 fewer pounds of carbon per year than standard oil-fueled furnaces.
One litre of leaked oil can contaminate 1 million litres of drinking water.
A pinhole in an oil tank can empty 1,000 litres of oil.
Pinhole leaks are often undetected for months, and sometimes years.
2 - Top Marks for Safety:
Propane is one of the safest alternative fuels you can use. It has a unique odour added to it by manufacturers so that it can be easily recognized and detected in the case of a leak. It is non-toxic, cannot be ingested, cannot contaminate soil or water, and is stored in highly regulated tanks with safety valves and other safety mechanisms to prevent ruptures.
3 - Better Efficiency Means More Cost Effective:
Oil furnaces typically produce heat at about 60% efficiency while propane furnaces, on the other hand, are much more efficient, with ratings typically 90% or above. By switching to propane you are ensuring you are heating your home in the most efficient manner.
4 - Lower Insurance Liability:
The Insurance Bureau of Canada confirms that $78.5 million was paid out on oil tank spills from 2008 to 2011. But being insured does not guarantee you won't be liable for damages. Leaks and spills from a home or commercial oil tank are dangerous and can become extremely costly. The average cost for cleanup of an oil tank leak/spill is $250,000 to more than $500,000 and can include:
Replacing the tank and supply lines
Removing contaminated soil from around your home
Replacing your home's foundation
As a homeowner with an oil tank on your property, you are responsible for year-round maintenance of your oil tank. If there is a spill or leak of oil from your property, you could be entirely responsible for all of the costs associated with the clean-up.
You deserve a safe, efficient, and cost effective fuel source for your home, cottage or business. Switching to propane allows you to make an impact on preserving our environment in an affordable way.
With several delivery options available, you never have to worry about scheduling and supply. Propane's availability makes this fuel just as convenient as electricity for heating your home or business.
Are you located in a remote rural location? Propane is the solution for you because we deliver across central Ontario to cottages, farms, estate homes, construction sites, towns and villages. Get in touch with Budget Propane today and learn about becoming a Budget customer. We strive for customer service excellence in everything we do!