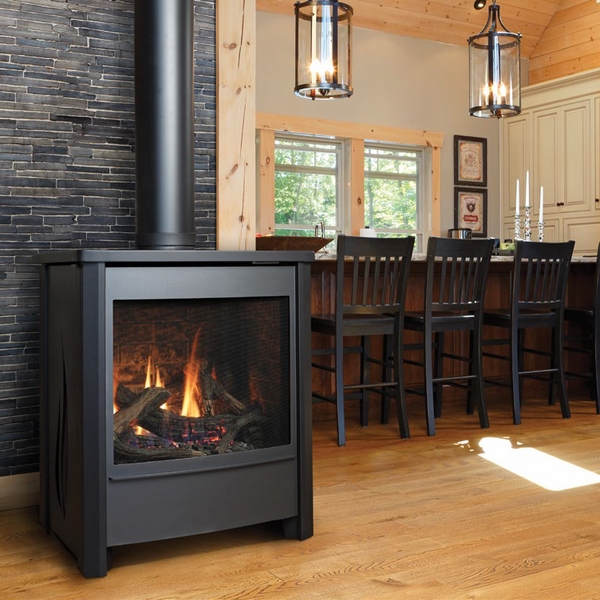 Are you thinking of updating an old wood burning fireplace or stove in your den or family room? Maybe it's been un-operational for a few years and it's time to move on to something new. Or are you looking to add a focal point and heat source to a living room, kitchen or recreation room?
Direct Vent LP Propane Gas Stoves are at the top of the list when it comes to both interior design and economic heating.
The reason most homeowners want a fireplace or stove is two-fold. The colour and motion of flames in a stove makes the hearth an instant focal point of any room. Secondly, everyone wants to cozy up in front of a direct heat source like a propane stove / fireplace. With some comfortable furnishing nearby, it's a great place to warm up after skiing in the winter or walking in the fall air.
Here are 3 more reasons we think your family with love a new propane gas stove.
#1 - Instant Heat & Enjoyment
Just like natural gas, propane stoves provide instant heat and enjoyment. Press a button, flip a switch and you are ready to sit back and enjoy the warmth. No chopping kindling and starting a wood fire - or loading fuel pellets - propane is instant energy with no work or fuss.
#2 - Clean & Easy
If you've had a wood stove before, you know the mess of cleaning and maintaining it is a lot of unpleasant work. Ashes and soot need to be removed and disposed of, for the continued safe operation of the fireplace. Propane is a clean-burning fuel and you don't have to worry about toxic emissions. A propane stove is a zero maintenance solution.
#3 - Wow Factor
Propane gas stoves come in so many different designs you'll be sure to find the style to give your room a Wow Factor. If you have a contemporary home, you'll find modern sleek direct vent propane gas stoves or fireplaces in a variety of finishes. Or if you are looking for a traditional cast iron stove look for a rustic cabin then you'll find plenty of those to choose from.
Adding a propane gas stove is a great way to bring the family together to enjoy your living space to the fullest. Some homes have several - a propane fireplace in the family room, a propane stove in the kitchen and in the garage / workshop. Propane provides instant, clean heat that not only takes the chill off a room but creates a sense of welcoming comfort.
If you are new to propane and would like to get a quote or learn more about becoming a Budget Propane customer, give us a call 1-888-405-7777 or contact us 👉 here.