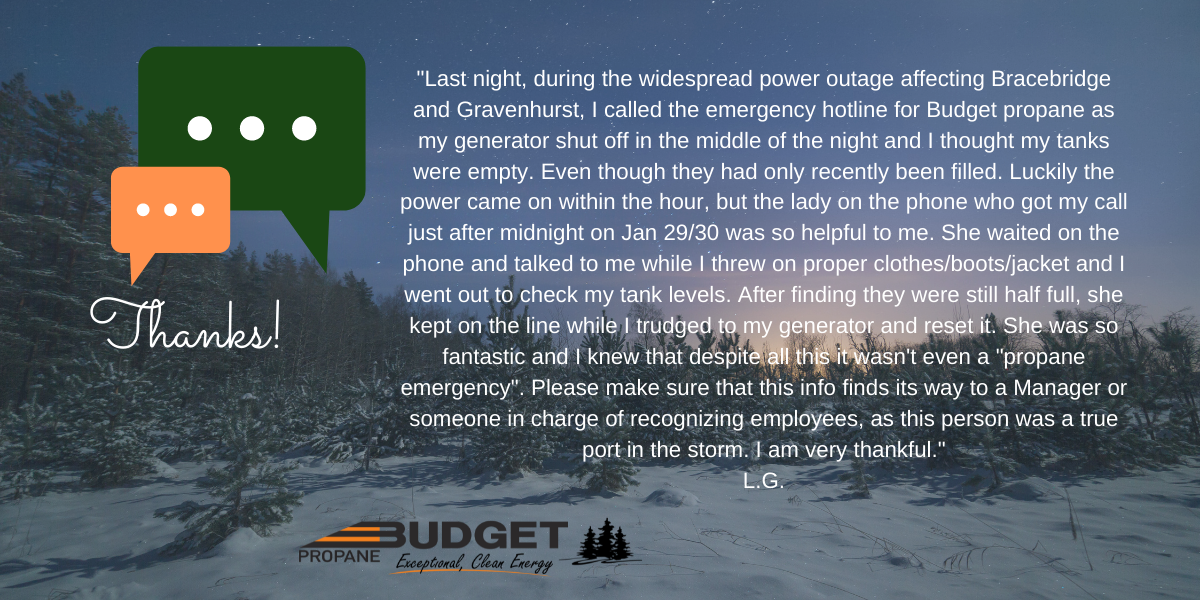 Going the extra mile. So proud of our customer service representatives and how they handle customer calls, round the clock! Thank you L.G. for sharing that feedback!
"Last night, during the widespread power outage affecting Bracebridge and Gravenhurst, I called the emergency hotline for Budget propane as my generator shut off in the middle of the night and I thought my tanks were empty. Even though they had only recently been filled. Luckily the power came on within the hour, but the lady on the phone who got my call just after midnight on Jan 29/30 was so helpful to me. She waited on the phone and talked to me while I threw on proper clothes/boots/jacket and I went out to check my tank levels. After finding they were still half full, she kept on the line while I trudged to my generator and reset it. She was so fantastic and I knew that despite all this it wasn't even a "propane emergency". Please make sure that this info finds its way to a Manager or someone in charge of recognizing employees, as this person was a true port in the storm. I am very thankful."
~ L.G.
For more customer reviews click here.
Budget Propane is a family owned and operated bulk propane supplier to residential homes and cottages as well as commercial businesses and construction sites throughout central Ontario.