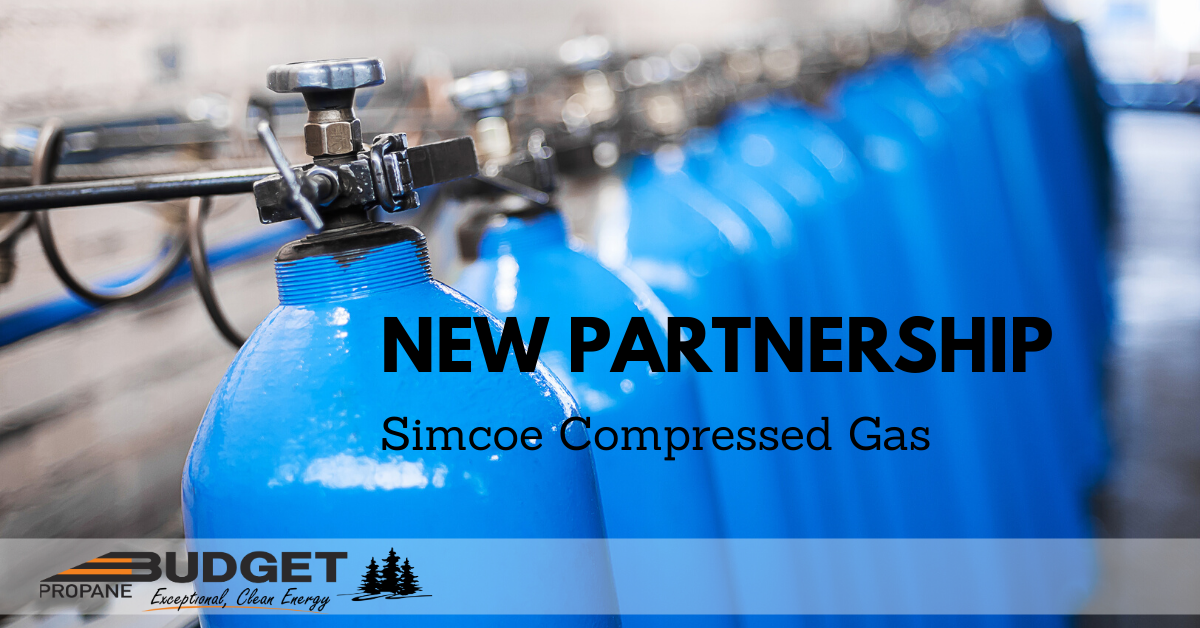 June 17, 2020 - Gravenhurst, Ontario - Budget Propane Ontario, a leading provider of propane across the Muskoka and Central Ontario region, is excited to announce a strategic partnership with Simcoe Compressed Gas (www.simcoegas.ca), after acquiring an interest in the business.
"We are so excited to announce the partnership with our brand-new sister company, Simcoe Compressed Gas, soon to be Simcoe Gases," commented James Callow, President of Budget Propane Ontario. "As the only independent business in its marketplace north of the Greater Toronto Area (GTA), we're looking forward to helping the business solidify its position as the best industrial / commercial gas supplier in Central Ontario."
Simcoe Compressed Gas will join Budget Propane's other sister company Calloway Storage, which offers portable storage units across the Muskoka region, Haliburton and many other areas.
What is Simcoe Compressed Gas?
Simcoe Compressed Gas, which will be renamed Simcoe Gases as part of the announcement, is an independently-owned distributor of industrial / commercial gases, welding supplies and other related gas products throughout the Simcoe Region, Greater Toronto Area and Central Ontario.
Based in its conveniently located office and warehouse in Barrie, Simcoe Compressed Gas has a team of employees with a combined industry experience of over 150 years with expert knowledge in compressed gas and welding supplies.
The company's range of gases vary from argon, nitrogen, oxygen, helium, gas mixtures. No matter what type of industrial gas your company needs, Simcoe Compressed Gas will be able to provide it for you.
Simcoe Compressed Gas also supplies welding gases, propane, butane, welding supplies, industrial supplies and safety supplies, as well its very own Speciality Draft division which provides services such as:
Complete beverage system installation
Beverage system troubleshooting and service
Line cleaning
Beergas, Co2
Beverage system equipment sales
Kegerators, couplers, regulators, and equipment
Budget Propane Ontario is a family-owned business that prides itself on providing a reliable residential and commercial propane delivery service and has been satisfying customers in the Central Ontario area for over 25 years.
Ready to learn more about our propane services? Contact us today for pricing and delivery options to your location, by phoning +1 888-405-7777 or completing the form on our website.
Alternatively, if you are interested in any of the services offered by Simcoe Compressed Gas, then please contact the company on info@simcoegas.ca or +1 705-881-1421.