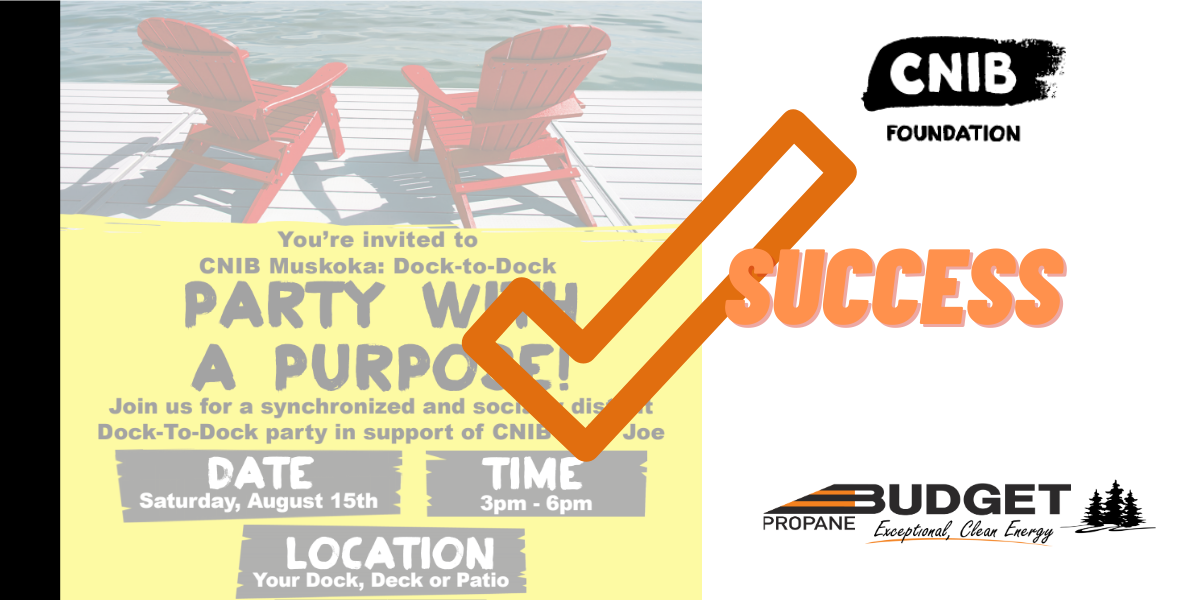 We are pleased to share with you, this thank you letter from the fundraising event, CNIB Lake Joe. Budget Propane was happy to contribute to this excellent organization and participate as a sponsor.
September 2020
James Callow
Budget Propane Corporation
1011 Beiers Rd
Gravenhurst, ON
P1P 1R1
Dear James and Budget Propane Corporation team,
It was an event like no other!
Thanks to your outstanding support, CNIB Lake Joe's signature fundraising event Dock-to­Dock: Party with a Purpose - the first-of-its-kind in Canada - was a resounding success.
We are deeply grateful for your generosity in helping CNIB Lake Joseph Centre break down barriers for people with sight loss today. On behalf of the entire team at CNIB Lake Joe, thank you for making this magical event possible, especially during a unique situation this summer.
We are thrilled to tell you that philanthropic contributions from thoughtful donors like you helped raise the bar this year. Because of your support, we raised over $190,000! More than 350 event participants, including "Dock Hosts", donors, sponsors, and volunteers helped make this year's celebration very special. We were fortunate to have Joan Kelley Walker with us again as our tremendous emcee. A philanthropist and fashion entrepreneur, Joan believes giving inspires giving, and she generously matched all donations to a maximum of $50,000.
We were also pleased to welcome Lake Muskoka host Rod Black, and a fantastic lineup of musicians featuring Beverley Mahood, Mac Shepherd, Al Rowe, Will Hebbes, Dayna Reid, Leah Daniels, Shawn Brady Band, and the Muskoka Girls.
We'd like to extend a heartfelt thank you to our incredible sponsors.
Founder & Chair, CNIB Muskoka Event
CNIB Lake Joe Vision Team
Manager, Philanthropy CNIB Foundation